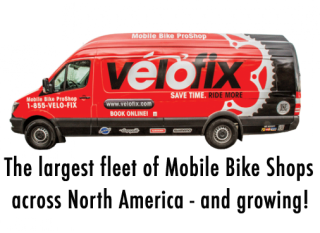 The mobile bike shop wars are heating up.
Velofix, a Vancouver, B.C.-based company that launched in 2013, is now open for business in Portland.
Back in June we reported that another mobile bike shop company Beeline Bikes was looking for a Portland outlet. They're still looking. Beeline Marketing Director Peter Small shared with us last week that they're hoping to have their first Portland shop up and running before this spring.
Meanwhile, Velofix says their first van in Portland has been open for business since January 11th. Customers can book appointments on-line then sit back and wait for the big red van to show up. Will these bike shops on wheels disrupt Portland's existing bike shop biz? That remains to be seen.
Check out the Velofix press release below for more info:
Mobile Bike Service Comes to Portland

Portland, OR The typical bicycle repair scenario goes like this: find your bike rack, install it on your car, load your bike up, drive it to your local bike shop, check it in and watch it get wheeled into the black hole that is the back room for up to two weeks. For some, this system simply doesn't work.

As of January 11, cyclists have a more convenient option for bike repair with Velofix mobile bicycle repair service. Customers simply book an appointment online at Velofix.com and the van comes to their home or office, offering on-site service or pickup/drop-off options. The van houses a full service bike repair shop equipped for all levels of service, from installing chains to hydraulic brake bleeds.

Velofix's Portland franchise is owned and operated by co-founders Bill Fuller and Brandon Bruins and head mechanic Brian Link. Link boasts over 15 years of bicycle fitting and service experience at major Trek retailers in Portland and Virginia. Bruins and Fuller are lifetime cyclists with over 10 years of Portland bike shop management experience.

Velofix was founded in Vancouver, B.C. by University of Portland graduate David Xausa, triathlete and marathoner Chris Guillemet, and mechanic and three-time Canadian national track champion Boris Martin. Velofix launched its first Mercedes Sprinter van in January 2013. It has since expanded to over 30 vans in over 20 markets.

For more information contact Brandon Bruins via brandon@velofix.com.
Want more local bike industry news? Check out our ticker archives. If you have a tip or would like to see your news posted in this column, please drop us a line.
— Jonathan Maus, (503) 706-8804 – jonathan@bikeportland.org
If you have questions or feedback about this site or my work, feel free to contact me at @jonathan_maus on Twitter, via email at maus.jonathan@gmail.com, or phone/text at 503-706-8804. Also, if you read and appreciate this site, please become a supporter.