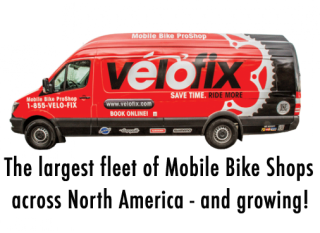 The mobile bike shop wars are heating up.
Velofix, a Vancouver, B.C.-based company that launched in 2013, is now open for business in Portland.
Back in June we reported that another mobile bike shop company Beeline Bikes was looking for a Portland outlet. They're still looking. Beeline Marketing Director Peter Small shared with us last week that they're hoping to have their first Portland shop up and running before this spring.
Meanwhile, Velofix says their first van in Portland has been open for business since January 11th. Customers can book appointments on-line then sit back and wait for the big red van to show up. Will these bike shops on wheels disrupt Portland's existing bike shop biz? That remains to be seen.
Check out the Velofix press release below for more info: