This
data
from the U.S. Census includes both urban and suburban areas.
(Chart: BikePortland)
The unfortunately named new federal transportation bill, the FAST Act, is headed for a presidential signature after passing the House of Representatives Thursday.
While biking and transit advocates are sounding two cheers for the latest extension of the status quo (rather than the complete car-centrism favored by Koch-funded advocacy groups), it's a good time to consider the ways transportation differs in cities across the country.
This year, the Portland metro area will spend about 30 times more tax dollars for TriMet operations alone than its cities have for biking improvements or programs.
Here's an interesting fact along those lines: though bike commuting is nearly insignificant compared to mass transit commuting in some metro areas, in other metro areas it's basically a junior partner.
There's no question, of course, whether biking or mass transit looms larger in American politics. Just look at the numbers: this year, the Portland metro area will spend about 30 times more tax dollars for TriMet operations alone than its cities have for biking improvements or programs.
At the federal level, $821 million was sent to bike-related projects last year. That's 1.3 percent of the $65 billion that went to public transit grants.
I don't mean to be arguing that bikes and transit are rivals, or that they aren't complementary. The world's best biking cities are all good transit cities. Anyway, far more tax money goes toward auto infrastructure than into either biking or transit.
But it is interesting to note that an attitude that makes sense in Washington D.C. or New York City — bikes are fine and dandy but mass transportation is the mode that deserves real money — doesn't make sense at all in other cities like Tampa, Phoenix, Portland and San Diego.
When you start comparing transit and bike commuting directly to one another, the variation among major cities is huge.
What's going on here?
For some of these cities, biking does well compared to transit mostly because transit is so unpopular. Tampa, Riverside and Detroit are the three largest metro areas in the United States with no light rail or metro system at all.
But why are they right next to decent transit cities like Portland, San Diego, Denver and Minneapolis?
Well, it's hard to say. But here's one possible factor:
Do you see the trend?
Here's a cheat sheet: the cities circled below are Miami, Atlanta, San Antonio, Houston, Dallas, Charlotte and Washington DC.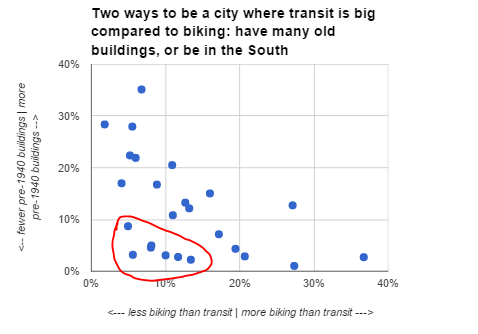 With the exception of most Southern cities (I'm not sure why) there's a simple rule here: Unless you're in the South, the more buildings you have that predate mass automobile ownership, the more transit-oriented your city tends to be. But if more of its buildings went up in the age of auto-oriented planning, your city is probably relatively more suitable for biking.
The Portland region's transit system is pretty good, and that's worth celebrating. But it's not nearly as good as DC's or Chicago's — and unless we switch back to building 1920s style density someday, it probably never will be. Meanwhile, as TriMet prepares to use the renewed federal status quo to fund two big transit investments in Southwest and Southeast Portland, local officials ought to ask themselves: are we doing enough to make sure that bicycling isn't an afterthought?
— Michael Andersen, (503) 333-7824 – michael@bikeportland.org
Michael Andersen was news editor of BikePortland.org from 2013 to 2016 and still pops up occasionally.