A fire in Oakridge early this past Sunday morning has completely destroyed the headquarters of Planet-X USA. The company sells bikes under the Planet-X, On-One and Titus brand names and is owned by its parent company which is based in Sheffield, England. Vincent Rodarte, the company's operations manager, moved the business to the mountain biking mecca of Oakridge on August 1st of this year. Planet-X USA opened in Portland in 2011 and expanded significanly in 2013.
Planet-X's Portland location had 10,000 square feet (we visited them back in 2013), but much of that inventory had been crammed into the 1,200 square foot showroom and office in Oakridge. Fortunately the company is insured against fire, but it's a huge blow to Rodarte and his effort to strengthen the U.S. business.
Rodarte, who lives in Portland, just published photos of the damage and his thoughts about the fire at ORBike.com: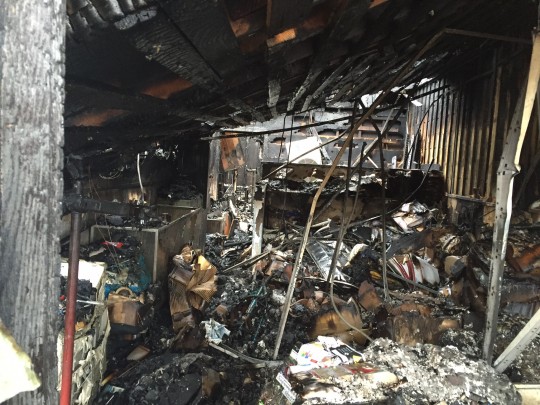 "The showroom is now a box filled with blackened debris of carbon shreds, partially consumed tires, and wheels that seem to have melted into the floor.

The office was reduced to blackened mounds of melted printers and computers. The tool box I left on my desk on Friday was a black pool of plastic with some tools embedded in it. There is the silhouette of two solid figures that stand out above the chaos all over the floor. Our Park Tool double armed repair stand in the back room and the Feedback Sports mobile stand standing by the front door.

I haven't been able to see much else in the two back rooms, which were filled with our stock of Titus service parts, stems, seat posts, grips, bar tape, etc. Peaking through the busted out back windows, tool boxes are leaning as if they are drunk. Nothing else is recognizable.

Today I got the chance to stand inside the showroom. Steel frames were still holding up. Carbon frames were merely ghosts of their former selves. Carbon wheels had come unwoven. Disc brake rotors hung onto portions of hub shells. Display cases were reduced to piles of molten glass and charred wood. It was not the smell of a bicycle store.

I've been wearing a strong face for the last few days, but I think it's only because it hasn't quite hit me yet. Calls to utility companies are making it a bit more real to me. The community of Oakridge has been extremely supportive. The Brewers Union 180, our local pub, has been my makeshift office.

Standing in front of my home away from home since August, I cracked a little. It wasn't due to the extreme physical loss I saw before me, it was for the loss of time, effort and pure love that went into making this shop in a tiny town happen."
Reached today, Rodarte says authorities still don't know what caused the fire (it also burned a bakery in the same building). For the immediate future, he says, "I will be back in Portland working from a home office. Planet X USA is in mobile mode now."
For more about the fire read the story in The Register-Guard.
— Jonathan Maus, (503) 706-8804 – jonathan@bikeportland.org
Jonathan Maus is BikePortland's editor, publisher and founder. Contact him at @jonathan_maus on Twitter, via email at maus.jonathan@gmail.com, or phone/text at 503-706-8804. Also, if you read and appreciate this site, please become a supporter.