Anyone who rides south on North Interstate Avenue between Tillamook and the Broadway Bridge/Larrabee split can understand why the Bureau of Transportation wants to re-stripe it.

South of Tillamook, the road splits and users have to decide if they want to continue on Interstate toward Memorial Coliseum or merge to the right and connect to Larrabee and the Broadway Bridge. While this swerving and merging free-for-all happens, people on bikes face 315 feet of unprotected exposure to other traffic with just a few faded hash-marks to designate the bike lane.
The effort to fix this section of Interstate started nearly two years ago by volunteer activist Blake Goud. Goud took it upon himself to improve Interstate. He got backing from nearby neighborhoods, corralled other activists for help, and got in touch with key PBOT staffers to find a solution.
At this week's Bicycle Advisory Committee meeting, PBOT Bicycle Coordinator Roger Geller shared three different striping options currently under consideration. Geller said the existing configuration is "troubling" because, as a bicycle rider "you're basically in between large and fast vehicles."
Here's the existing layout: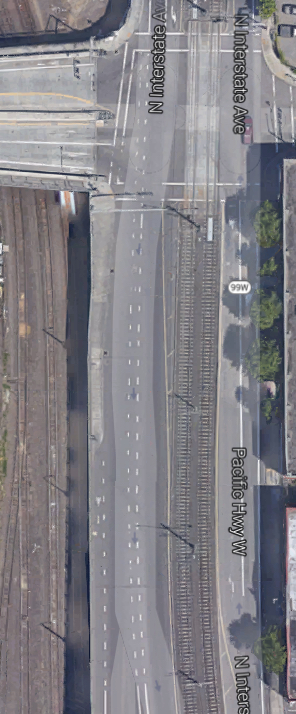 And here are the three new striping designs PBOT has come up with (note that they all come with green paint and a new bike box at Interstate and Tillamook):
Option A
This design creates a protected buffer for bicycle traffic right up until the split happens. At that point, riders would either continue to Larrabee or — if they wanted to continue on Interstate — they'd merge left by yielding to oncoming traffic and crossing a 15-foot lane.
This option does not include a separate right turn lane for non bike lane traffic. The downside of that is if you are in the buffered bike lane you won't know if people in cars are continuing straight on Interstate or if they're merging right onto Larrabee. Geller lists that "con" of this design as "Lack of clarity about southbound movement." The upside is that the lack of a turn lane means the bike lane gets a larger buffer.
Option B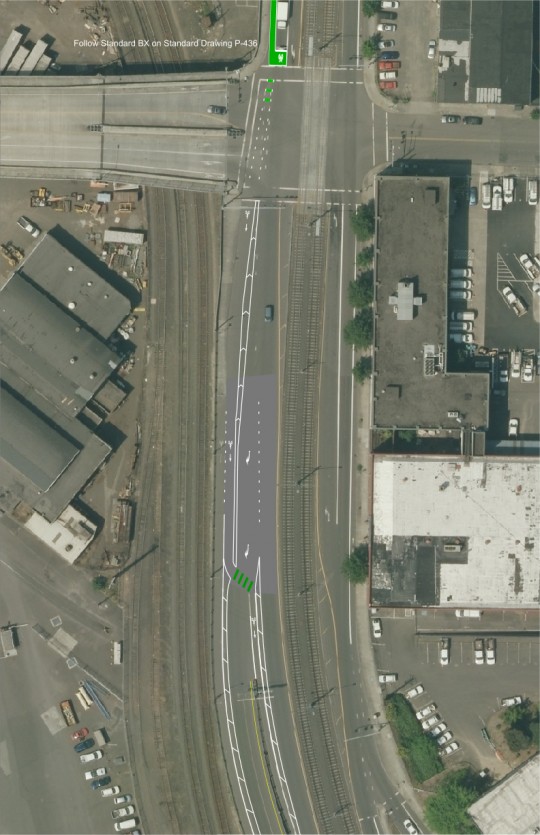 This option is similar to A, but PBOT includes a right-turn only lane. That lane adds clarity of southbound traffic movement, but it reduces the size of the buffer.
Options A and B limit exposure of bicycle riders to other traffic. The downside is that when you cross over the lane you might have to stop and wait for a break in traffic.
Option C
This option gives bicycle riders the priority throughout; but it doesn't provide the safety buffer of the other two options. Also, bicycle riders continuing on Interstate will still have 175-feet of exposure to merging traffic. (If you're wondering why PBOT designed such a large merge opening over to Larrabee, it's because this is a freight route and their design standards require 175-feet for large trucks to make the turn.)
Several members of the Bicycle Advisory Committee preferred option B because of the balance of protection for bicycle riders and clarity about the direction of other traffic. A few members prefferred option C because it gives bicycle riders a priority. One member suggested that PBOT install a "leading bicycle interval" at the traffic signal of Interstate and Tillamook so that riders could get a jump on traffic and establish themselves in the lanes. Another detractor of options A and B said that he wouldn't feel comfortable stopping in the roadway while waiting for a break in traffic.
Ted Buehler, the BikeLoudPDX volunteer activist who has worked with PBOT and encouraged them to make this project a priority, said he strongly prefers Option C. Buehler said it has "obvious operational advantages" and that A and B put riders in a "very awkward position" of having to look over their shoulder to guess which way 30+ mph traffic will go.
The designs don't currently include any physical protection like candlestick wants or curbs (like what Multnomah County installed on the eastbound Hawthorne Viaduct); but we hope that would be an option once a design is finalized.
We've asked PBOT about the timeline for this project and have yet to hear back. For now, please share your input and help improve the final design.
— Jonathan Maus, (503) 706-8804 – jonathan@bikeportland.org
If you have questions or feedback about this site or my work, feel free to contact me at @jonathan_maus on Twitter, via email at maus.jonathan@gmail.com, or phone/text at 503-706-8804. Also, if you read and appreciate this site, please become a supporter.