The proposed median diverters, similar to those used elsewhere in the city, would allow local auto traffic on Clinton but render the street much less useful as a car commuting route by forcing east-west cars to turn. The goal is to make more people comfortable biking there by reducing auto counts on the street.
(Photo: J.Maus/BikePortland)
Citing fresh evidence that Clinton Street has accidentally become a significant route for rush-hour car traffic, the Portland Bureau of Transportation last week proposed two diverters designed to push the traffic to Powell Boulevard, Division Street and elsewhere.
Under its plan, PBOT would test median diverters at 17th and 29th to block east-west auto traffic on Clinton while allowing north-south traffic at those intersections. The barriers would be put on the ground this fall and tested for six months.
The city would also make the rules of Clinton's neighborhood greenway more explicit to people in cars by adding "Bicycles May Use Full Lane" signs to the length of the street from 12th to 52nd avenues. That'd be a first for a Portland neighborhood greenway.
Between Cesar Chavez Boulevard and 52nd Avenue, the city would add speed bumps designed to bring motor traffic speeds closer to the city's neighborhood-greenway target of 20 mph.
The plan would remove a freeway-style sign on Powell that directs northbound traffic onto 17th despite the official status of 17th as a local service road.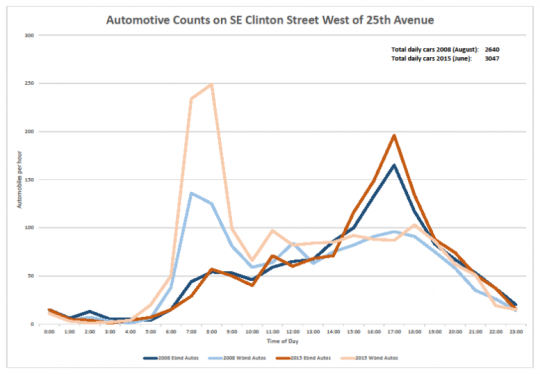 City data shows a big jump from 2008 (blue) to 2015 (tan) in westbound rush-hour car traffic at Clinton and 25th.
And to further reduce auto traffic on Clinton, the city would follow the request of residents on SE 34th to convert it to a one-way northbound street between Clinton and Division, plus a southbound contraflow lane for people biking. Though this is a narrow local street, it has a traffic signal at Division that tends to lure people south to Clinton. (This change would also function like a semidiverter to reduce through traffic on 34th, which functions as an unofficial north-south bike route through the area.)
The improvements, if built as proposed, would be tested for six months, while the city collects data on how they effect travel patterns in the area. The city will also, no doubt, hear from constituents on all sides of the issue.
What do you think of the plan? You can share your opinion here with the city's six-question multiple-choice survey.
For me, one of the most interesting details at last week's open house was a set of new data gathered by the city that strongly suggested what Clinton users have been saying for more than a year: though Clinton is supposed to be functioning as a local-service street, it's actually picking up lots of car traffic from outside the area.
"There is a significant amount of non-local auto traffic that uses Clinton as a cut-through route, particularly westbound traffic during the AM peak period," the city said.
During the morning rush hour, for example, the city discovered that westbound car trips — towards downtown, that is — are five times likelier to be "long distance" than eastbound trips are. It gathered this with sensors that observed the unique Bluetooth signatures from cars as they passed by.
Another tidbit: the city grabbed photos of passing license plates and traced them to their registered home ZIP code. During both the morning and evening rush hours, more than half of auto traffic on Clinton comes from outside the ZIP code, mostly from the south.
Portlanders who attended last week's open house about the project had plenty to say about Clinton and the surrounding area:
Locals use sticky notes to add suggestions and comments to a huge map of Clinton Street.
I talked to several people who've been active with BikeLoudPDX, the year-old advocacy group that has focused strongly on getting diverters on Clinton, and they seemed guardedly supportive about the city proposal, which was broadly similar to BikeLoud's own proposal.
Alan Kessler, a BikeLoud participant who also serves on the Richmond Neighborhood Association, said he was worried about the lack of diversion proposed east of Chavez, where he often rides with his young son. That stretch of Clinton didn't show up as a problem in the city's recent study of its neighborhood greenways, though it's not clear whether the city gathered data there.
An exit-only diverter on Clinton at 50th, similar to the one at Chavez, was one of the BikeLoud recommendations for Clinton that the city didn't include here. Another BikeLoud proposal, a pedestrian plaza at 26th similar to the one tested last year by Better Block PDX, was listed by the city as part of a possible (but as yet unfunded) "phase two" of changes to Clinton.
Here's another intriguing concept mentioned as part of a possible second phase: "special pavement markings" that could increase the sense of place on Clinton and boost awareness of people walking there. I can assume that at least one local business would be in favor of the mockup suggested here.
Though this was just an open house, with attendees focusing on one-on-one conversations about the plan, there didn't seem to be major fireworks about the proposal when I stopped by last Wednesday. Many people were clearly there to support the proposal; BikeLoud members designed a special flyer to promote the event and created an attractive Facebook event for an organized ride that ended there.
This "ready, fire, aim" approach to new infrastructure, where the city tests something on the street without a lot of preliminary fuss and then adjusts it based on how people respond to it, is growing in popularity around the country. This is PBOT's first attempt at it, so it could create a new mold for enacting the goals of the city's new action plan to fix the weak links in its neighborhood greenway network.
That's why we'll continue covering this closely over the coming months. Stay tuned.
Michael Andersen was news editor of BikePortland.org from 2013 to 2016 and still pops up occasionally.