It's an anomaly in Southeast Portland's parking wars: a group of homeowners is asking the City of Portland to please remove a row of auto parking spaces from their street.
They'd rather have a bike lane, the group says. But it's not yet clear whether their request will be granted.
"It's a street where nobody's been killed, but many, many near misses," said Mark Zahner of the street where he lives, 34th Avenue between Clinton and Division streets. "We feel like it's only a matter of time."

That's why Zahner, an architect, has drawn up a pair of 12-foot-long scale representations: one of the block he lives on, the other of the block he wants to live on.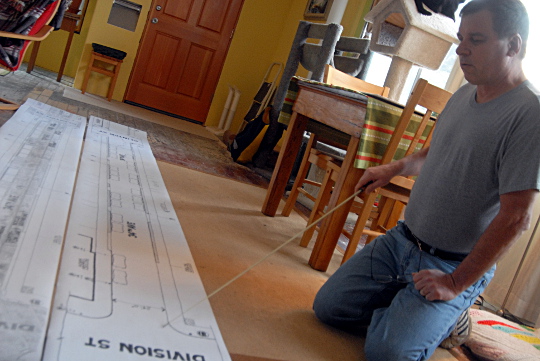 The problem, Zahner says, is that the street just can't safely fit two parking lanes plus traffic in both directions.
"It's very uncomfortable for a bicycle and a car to be in the same lane," he said. "Very narrow."
His concept for the one-block stretch of 34th Avenue (huge PDF) has seven fewer auto parking spaces along the west curb, two new ones along the east curb, and — this is the key to the design — no southbound auto traffic.
Instead, bikes would get a dedicated southbound lane of their own, set off by a painted stripe and "no entry" signage at the Division Street intersection. Cars (and bikes) could continue to head north from Clinton to Division, and people driving to the street would have to access it from the south.
"I've gotten almost everybody on the street on board," Zahner said in an interview last month. "Even people who rely on street parking feel that the safety aspect and the traffic flow is more important than the losing five parking spots."
Of the 11 houses on the street, he said, there are only two holdouts.
Though this block of 34th isn't marked with sharrows, it is marked as a bike route on city maps.
"The bicycle numbers through here are pretty phenomenal," Zahner said. "It's a major connector to the Clinton bikeway."
Bicycle Transportation Alliance Advocate Carl Larson said that in general, 34th is one of the best north-south bike routes below Stark Street: straight, flat and mostly low-traffic.
But Zahner says his block, where the street narrows from 36 to 24 feet from curb to curb, is a problem.
"There's a light right at Division and 34th that gives people the idea that this is a major throughway," he said. He said delivery truck drivers in particular, bound for Clinton's commercial district, often turn right at 34th and then find themselves awkwardly navigating a street that can barely fit a car and a bike, let alone a truck.
Zahner wants to fix this by forbidding southbound auto traffic from Division.
"It's bringing bikes to the bike boulevard and cars to the arterial," he said.
Zahner said he's approached city bike coordinator Roger Geller about the redesign concept. He said Geller was intrigued, but hesitant to push forward without a letter of endorsement from the Richmond Neighborhood Association.
The RNA, a hotbed for auto-parking-related conflicts, hasn't offered a full endorsement of Zahner's plan. Zahner said it's because neighborhood co-chair Allen Field is opposed to any removal of auto parking from the neighborhood's increasingly crowded streets. Correction 1/11: RNA co-chair Jeff Cropp comments below to say he thinks this is because Zahner never asked for a full endorsement. RNA did not actively withhold its endorsement.
Zahner has the support of nearly all his neighbors.
Zahner and two neighbors I spoke to don't deny the street is crowded, and only getting moreso. But they said they're willing to accept the annoyance of a bit less parking in exchange for a street that feels safer.
Zahner and Larson are right that active transportation is heavy on 34th. In the 20 minutes I spent on the street on a Saturday afternoon, as many bikes and skateboards passed as cars.
"It's just one block," Zahner said. "But it could be improved considerably."
Zahner is gathering signatures from people who use 34th — or who would like to — for a petition to the city. To add yours or learn more, email him: zwest@mindspring.com.