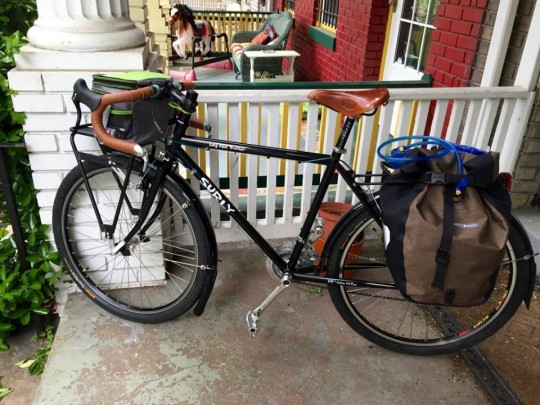 Megan's stolen Surly.
It feels like all of Portland wants to help Megan Holcomb recover her stolen bike.

Here's her story:
As many of you know, I just rode across country from Washington DC to Portland OR. My 2nd to last day visiting Portland, my touring bike, that I built myself, was stolen this morning sometime before 8am PST on west Burnside St (NW). I am absolutely heartbroken. I dont have many friends/connections here in Portland but posting this anyway to get the word out for those who are nearby. If you know people in Portland or surrounding area, please tag. Could be already in the marketplace or several weeks before the culprit sells it.
In less than 24 hours, her Facebook post has been shared over 16,000 times and I've received several voicemails, texts, instant messages, and emails about it.
This is sad not just for Megan, but for Portland in general! Let's find this bike. The full description is below:
Surly – Long Haul Trucker
Black 46cm frame
26" wheels (Continental Tour Ride)
Honey colored Brooks leather saddle (possibly under black seat cover) and matching tan handlebar tape
Teal cable housing
Headset has a unique spacer thats a lime green beer bottle opener
Shimano bar end shifters
Black front rack (old man mountain) and back rack **the front rack cannot be removed unless they find a new quick release for hub mounting**
Front and back Planet Bike fenders **with lots of bright yellow reflective stickers**
The right of the top tube only says "Trucker" on it (compared to all/most LHT bc I scratched it off).
27 speed. Large chain ring is black, middle and small are silver.
Pedals are MKS step-in **flat on one side, clips on the other**
I had a nameplate on the back fender that said "Megan" from Natural Bridge, VA but likely was removed.
As of this morning, Megan says the bike is still missing. And while she's bummed about that, she's also feeling good from the outpouring of support she's received. Here's what she just posted to Facebook a few minutes ago:
My bike and I are still apart. I am still hurting. BUT, the love, support, and community I have felt from social media is unbelievable. You all sharing my story has made a HUGE difference in exposure. The local news picked up my story as well as the Oregonian. Unfortunately, there is nothing new about a bike theft story in Portland… but the story is not about theft. Its about people caring. And relating to my loss. And not wanting their beautiful city to be known for this. I promise you all I will not remember Portland for the loss of my 2-wheeled companion. 16,000 shares? That has given me more hope than I could ask for. Its a community search party! And we are going to find this bike to show what all of the "good" can do to outshine the few "bad"! Thank you. Deeply.
If you see this bike, or even think you see this bike, please call the police non-emergency line at (503) 823-3333, and tweet @PPBBikeTheft.