This
map
of stressful and low-stress rides was built from some of the 12,000 bike trips logged by beta testers of Ride, a forthcoming mobile app from Portland-based Knock Software. The company hopes to scale up and create the nation's first large user-generated database of bikeway quality.
(Image: Knock Software)
One of Portland's most interesting tech startups is about to move into its next phase: attempting to recruit thousands of local bike users to become rolling bikeway evaluators.
"Look at the pace we could be moving. …They could put this temporary bike lane in and say, 'Look how much safer people feel overnight.'"
— William Henderson
Knock Software, the company that is simultaneously contracting with the City of Portland on an experimental piece of hardware that aims to radically lower the cost of counting bike traffic, is also setting out to convince 10,000 people to install its mobile app by the end of this summer.
The offer: put the free app on your phone, give each bike trip a quick "thumbs up" or "thumbs down" as you complete it, and the city will be able to parse massive numbers of such trips into data that can rapidly improve Portland's streets.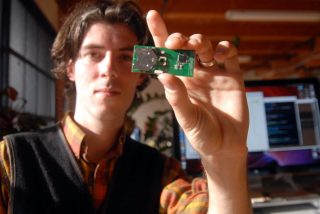 Knock CEO William Henderson with a device similar to one
of his sensors.
(Photo: M.Andersen/BikePortland)
Knock founder William Henderson said in an interview that the combination of instant real-time bike counts (gathered by Knock's small, low-cost sensors) and real-time user evaluations (gathered voluntarily from people who install Knock's upcoming app, which is called Ride) would completely change the city's ability to prove that its biking improvements are making a difference.
"The city is starting to take this experimental approach to infrastructure," Henderson said. "Look at the pace we could be moving. … They could put this temporary bike lane in and say, 'Look how much safer people feel overnight.'"
It'd be a new, lightning-fast way of planning bike infrastructure, he thinks, possible in part because bike infrastructure is so cheap and easily installed, tweaked and reversed.
"They can do manual counts, but there's no way to effectively say, 'Look how people feel,'" Henderson said. "You can take a knee-jerk reaction when somebody gets hit or gets killed, but that's about it."
A company with a mission to gather data
Henderson, a 2008 Reed College graduate who was previously a top product designer for mobile payments startup Square, is currently funding his company with the cash flow from its first program, a $4 App Store hit that lets people tap their iPhone to log into their Macintosh laptop. In a January interview with BikePortland, Henderson said that success has given his company the luxury to gradually build a company that both makes money and creates social benefits.
His current revenue plan hinges on building tools that will gather data about bicycle use, which can then be sold to cities and states.
He admits his goal of 10,000 mobile app installations in a city that has 19,000 daily bike commuters is audacious.
"We don't just want to get daily bike commuters, we want to get folks who are biking once a week or twice a week," Henderson said. "Those trips, from the city's perspective, might as well not exist."
But they're simultaneously the trips that matter most to Portland's future as a biking city.
"It's way easier to get someone to use a bike for errands, going to see friends and so on, than it is to turn them into a commuter," Henderson said.
About 100 people are currently using the invitation-only beta version of Ride, Henderson said. They've tracked 15,000 rides since April and created the map above.
"The average ride length is 1.2 miles," he said. "That means that we're getting errands, we're getting commutes, we're getting just short trips that the city wants to get more of."
Knock's goal is to eventually be gathering 5,000 to 10,000 good-or-bad ride reports per week.
Opening the doors of advocacy?
The long-term goal of the Ride app is to make it easier for ordinary people to communicate problems to government, but its creator admits that his biggest challenge will be getting enough ordinary people to trust that using it will lead to actual change.
Later this year, Henderson hopes to partner with employers who are looking to track and improve their workers' bike commuting.
"This is a much better way for employees to track their commutes, because they don't have to do anything," he said.
The company is also fine-tuning a set of functions that would let people report specific issues with their commutes, to be stored in an open public database, not unlike the city's existing PDX Reporter app.
Henderson said that as a bike commuter and a Portlander, he sees no shortage of people identifying problems with city streets, from potholes to missing bike lanes.
"When people are talking about issues, it's frustrating to me that there's no collection for that," he said. "It just means that the voices are separate instead of unified. … Right now, there's nowhere to go with that. you can explode with some road rage every 10 or so incidents. you can gripe about it with your buddies at the bar, but nothing's going to happen from that."
A few people, of course, use the traditional method for getting the city to change something: attending a neighborhood or city meeting.
"Only maybe 500 cyclists in the whole city ever do that," Henderson said. "So if we increase that number to 10,000, that's huge."
CORRECTIONS: This story originally stated that the Knock sensor is "matchbox-sized." The true size of the current counter is closer to a tissue box. Also, we reported that the City of Portland requested issue reporting in the app. That hasn't happened yet (although Henderson will still maintain a PDX Reporter-like database). And since we first spoke with Henderson, his system has tracked 3,000 more rides — giving him a total of over 15,000 since April. We regret any confusion.