Posted by Jonathan Maus (Publisher/Editor) on May 29th, 2015 at 9:26 am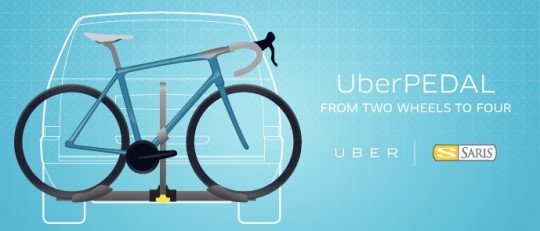 Carsharing service Uber announced a new bike rack option this morning. Dubbed "UberPEDAL" the new system will allow Uber customers to request a car through their app that can pick both them and their bike.
Here's more from Uber:
Whether you're not able to ride because of a flat, a torrential downpour, or consuming one too many beers, Uber now has you covered. At the touch of a button and with a $5 surcharge, you can request an uberX equipped with a Saris bike rack (fits up to two bicycles), and in minutes your car will arrive, ready to take you and your bike where you need to go!
Uber says during the launch period only a limited amount of drivers will offer the bike racks. The company says you're most likely to find one in their core service area downtown.
The racks Uber is using are made in Madison, Wisconsin by Saris.
Uber has been operating in Portland for about a month now and they say over 3,000 people have signed up to drive and over 70,000 trips have been taken.
To learn more about UberPEDAL, join Uber staff at Velo Cult Bike Shop & Tavern (1969 NE 42nd) tonight from 7:00 to 10:00 pm. They'll host a party with live music, free bike inspections and an appearance by Pedal Powered Talk Show host Boaz Frankel.
Uber's focus on bike riders follows the lead of another carsharing service Car2Go. As of this past March about half of Car2Go's 500 Portland vehicles are equipped with bike racks.