Portland: the city of bikeways that never sleep.
A 24-hour count of bike traffic at the corner of Southeast Ankeny and 28th Avenue observed 2,231 bike trips from noon on Thursday, May 14 to noon on Friday, May 15. In the busiest hour, 5 to 6 p.m. on Thursday, 325 bikes went past; in the least busy, 3 a.m. to 4 a.m. on Saturday, six bikes did.
"I think one of our event volunteers said it best," Taylor Sutton, a city worker who helped organize the first 24-hour count, said in an email Tuesday. "There's never not a bike on Ankeny."
Portland's 10 years of peak-hour bike count data at dozens of locations around the city would be the envy of almost any city in the world. But those counts neglect the many commuters who don't work traditional office hours, not to mention many of the non-work trips that account for more than 80 percent of our transportation. Sutton said the 24-hour bike count was intended as a way to enrich the city's understanding of other hours of the day.

Though the data is being used in part to assess and calibrate the city's experiment with cheap automated bike counters, Sutton said it's mostly intended as research for research's sake rather than intended to answer a specific question.
"Ultimately, Every Bike Counts was a celebration for people riding their bike, regardless of destination or peak commute times; sometimes taking the opportunity to sit back and observe is a good place to start to find the questions," Sutton said.
Our 24 Hour #EveryBikeCounts event also provides Quick Fixes" to folks' bikes. pic.twitter.com/xAXOaNwOGn

— ActiveTransportation (@PBOTactive) May 15, 2015
The event required 30 staff hours and 48 volunteer hours, including people to work a table where the city offered giveaways donated by local businesses and collected information about the origins and destinations of passers-by.
"We chose this intersection because we knew there would be a lot of bikes there (Ankeny & 28th was in the top 20 high-volume sites in last year's count, out of 217 counted) and it is centrally located," Sutton said. "The intersection is also a great combination of neighborhood greenway (Ankeny) and business district (28th)."
In addition to the number of bikes, Portland turned up some potentially useful information about the proportion of people riding with lights at night: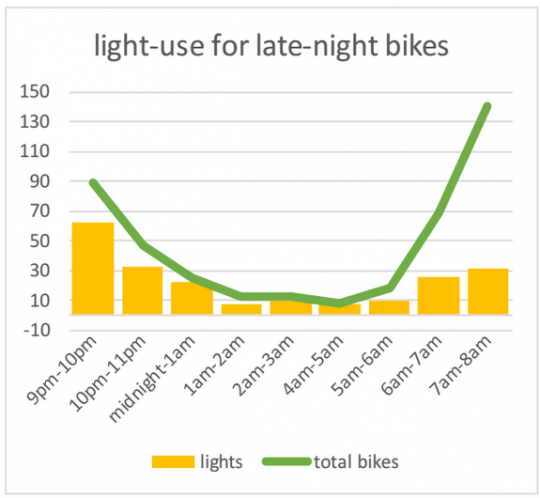 The purpose of people's trips (at least among those who chose to stop and chat):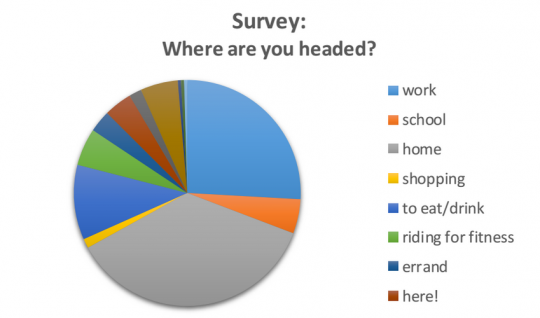 And the direction of the trip (the darker purple line is Ankeny eastbound, away from downtown; the lighter purple line is Ankeny westbound; dark green is 28th northbound; and light green is 28th northbound).
The event also observed 26 skateboard trips; the peak skateboarding hour was 7 to 8 p.m. on Friday, when five were observed:
You can see the city's full data summary here.
Sutton said the event was also, in part, a way to raise awareness of the city's regular peak-hour bike counts, which rely heavily on volunteers. (Volunteers can choose any Tuesday, Wednesday or Thursday from June through September to conduct counts.) A bike count training, required for first-time volunteers but optional for others, is next Tuesday.
"We could always use more volunteers!" Sutton said.