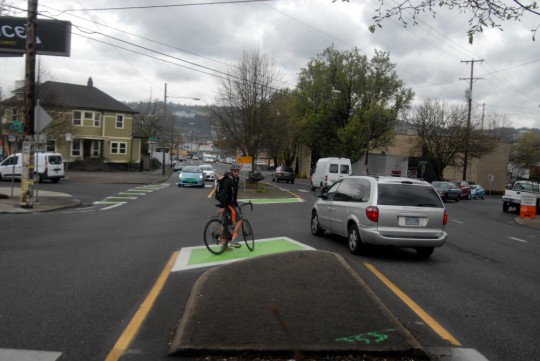 Looking southwest down SE Sandy Boulevard from Ankeny, Sandy and 11th.
One of Portland's weirder intersections has a new splash of color.
As part of its repaving project on inner Southeast Ankeny — which has, for the record, greatly improved the ride between SE 11th and Martin Luther King Jr. Boulevard — the city has added some interesting and potentially useful new features to the six-way intersection of Ankeny, Sandy and 11th.
This is not only a crossing for people headed east-west on the Ankeny/Couch/Davis greenway, it's also the point where folks headed up SE 7th/Sandy either continue north toward the 12th Avenue bridge into the Lloyd District and Northeast Portland or else turn east/west. It's also where people headed into Southeast turn from Ankeny onto 11th Avenue (an underrated biking street if you ask me).
Because of the difficulty of anticipating the numerous turning patterns, this is probably the single most annoying intersection I use frequently myself. I've often ended up taking the crosswalks, even though they're slightly out of direction, because people in cars are more likely to yield to me.
The Portland Bureau of Transportation has made an effort to guide people on bikes more directly through the intersection by marking in green a pair of refuge zones next to the median that divides Sandy at this point. The suggestion seems to be that people bike across the intersection in two distinct stages, waiting in the middle as needed.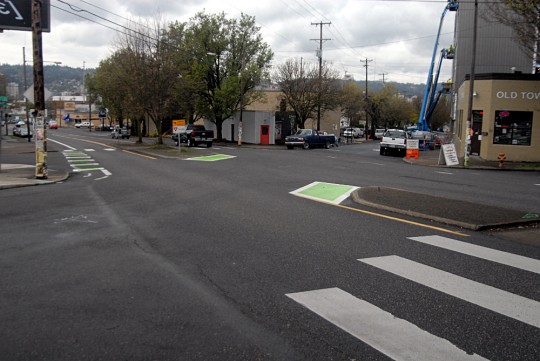 Looking west toward inner SE Ankeny.
You can also see another new feature here, which seems to be intended specifically for people heading northeast on Sandy and turning east onto Ankeny. It's a green-striped crossbike that marks a bike's path across the narrow neck of 11th Avenue:
The white-striped turn section has been marked for years, but the green color treatment is new — presumably to catch the attention of people entering 11th from the north, perhaps with multiple vehicles obstructing their view of anyone riding up the Sandy hill.
This is an interesting pair of treatments in part because it includes two different ways Portland, and the United States in general, has been using green pavement coloring.
The refuges are green in the sense of "safe for bikes to stop here," like an intersection bike box.
The crossbike, meanwhile, is green in the sense of "all users take caution – potential bike/car conflicts." In addition to crossbikes, you can also see this at some mixing zones, like the one at SE Division and 60th.
There's a third use of green as well: solid green bike lanes, like those on SW Stark and Oak, that emphasize that people shouldn't drive there.
Some people don't like that green pavement has come to mean such different things in different contexts. Others think that as long as it gets the basic point across — heads up, bikes nearby — the finer details are less important. I'm not sure where I come down, but I'll be looking forward to seeing if these new markings improve my crossing experience.