A SW Illinois Street piggyback ride,
brought to you in part by speed bumps.
(Photos: M.Andersen/BikePortland)
This post is part of our SW Portland Week.
Part of Portland's big idea of renaming "bike boulevards" as "neighborhood greenways" was that they're not just bikeways; they're spaces for street play, sports and other fun. And they're also, the line goes, good for walking.
It's easy to laugh that last part off on the east side of Portland, where almost every greenway is lined with sidewalks.
Not so in Southwest Portland, where neighborhood greenways are few but sidewalks are nearly as rare.
Thanks to decades of Multnomah County not requiring sidewalks to be built upon development, followed by further decades of the City of Portland routinely waiving the requirement that sidewalks be built upon redevelopment, two-thirds of SW Portland's busy streets, and many many miles of its smaller streets, lack sidewalks.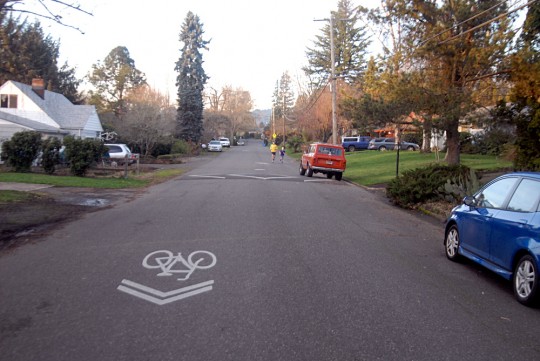 The four key ingredients of a Portland neighborhood greenway — signage, speed bumps, sharrows and stoplights — are no substitute for actual sidewalks. But until those sidewalks arrive, anyone making the case for neighborhood greenways in Southwest should almost certainly be describing it as a boon for walking.
— Browse all our SW Portland Week coverage.
We'll be here in Southwest all week! And join us Friday afternoon for a BikePortland Get Together and social hour at the Lucky Labrador Public House in Multnomah Village (7675 SW Capitol Hwy) from 4:00 – 6:30pm.
Michael Andersen was news editor of BikePortland.org from 2013 to 2016 and still pops up occasionally.