Co-founders Mike Cobb (L) and Tony Tapay.
Portland's well-known crop of bicycle builders will now have a much easier time sourcing the tubing and frame parts they need thanks to a new business that officially launched today.
Framebuilder Supply is the work of 47-year-old Tony Tapay and 44-year-old Mike Cobb, two men who have over 35 years of bicycle industry experience under their belts. (Both of them are likely familiar to BikePortland readers as well. Tony for his regular comments, and Mike for his exploits as a world-class bike messenger and involvement with the Disaster Relief Trials and other events.)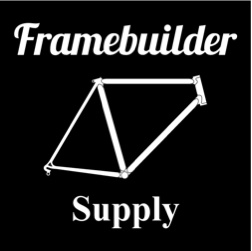 The impetus for the company came out of a desire to better serve the needs of frame builders, many of whom have very specialized needs yet don't have the staff or time to deal with large tubing and parts suppliers based all over the world. Custom bike builders are also, by their nature, always pushing the envelope of design and finding the parts they need to satisfy their discriminating customers can be tough.
"Builders were ordering most of their materials from out-of-state and those shipping costs added up," said company Co-founder Tapay, "We wanted to change that. We realized that being in the same town as some of the country's most influential builders would provide us with a great focus group, and that would help us serve builders everywhere."
Just a few of the lugs they sell.
Tapay, an industrial designer who has taught bicycle mechanic courses at United Bicycle Institute, has gotten to know many of these builders over the years. He started selling basic supplies like brazing fluxes and brazing rods and wire eight months ago, but now offers a full line of products including tubing from industry juggernaut Columbus. Using the Framebuilder Supply online store, builders from all over the world can stock up on dropouts, fork crowns, full tubing sets, braze-ons, and more.
The company also plans to sell its own products. Leaning on Cobb's product design and fabrication experience gleaned from his work with companies like Rivendell, Xtracycle, Yuba, Metrofiets, Ruckus, and TiCycles, Framebuilder Supply offers custom brackets for the popular Supernova E3 dynamo-powered tail light. It's been a big seller so far, with orders coming in from as far away as Germany, France and Belgium.
"We're excited to show builders what we've got," says Cobb.
You can meet Tony and Mike and see what they've got at a launch party set for 7:00 pm on Wednesday, February 18th at Velo Cult Bike Shop & Tavern (1969 NE 42nd).
Good luck guys!