Note: Please join me in thanking Bike Index. They were our sponsor for the summit, and it just so happens that Co-director Bryan Hance is the same guy who's behind our Stolen Bike Listings here on BikePortland (which are back up and running by the way!). Thank you Bike Index!
——
Because of everyone who showed up and took part in last night's Bike Theft Summit, Portland has taken a giant step forward in the battle to curb bike theft.

After years of frustration and disjointed efforts from the community and various agencies, I finally feel like we're creating a real foundation for change. One potent illustration of that fact was evident just by looking at who showed up last night. The panels and the crowd included: four Portland Police Bureau officers; several bike shop owners; staffers from the Bureau of Transportation, Office of Neighborhood Involvement (who debuted their new bike theft prevention flyer), the Office of Mayor Charlie Hales; Portland State University; the Multnomah County DA's office; homeless advocacy groups JOIN and Transition Projects; the tech innovators behind Project 529 and Bike Index; and many other community leaders who want to fix this problem.
(Photo by Fred King)

And last night's show of force still didn't include some key local leaders who weren't able to make it. One of them happens to be Portland's future Chief of Police Larry O'Dea. At the start of the event, I shared an email Assistant Chief O'Dea shared with me a few days ago in response to my invitation to the summit:
"I can't make it to the summit… But I wanted to let you know that the Police Bureau is here to support and help wherever we can. Know that we will help you and the bicycling community wherever appropriate around this crime. Let us know where we can best be of service."
Suffice it to say: bike theft is on the map in Portland and we've pulled together a formidable team to fight back against it.
While police and enforcement issues were a big part of last night's discussions, we also talked about the issue from many other perspectives.
Before we got into the panel discussions, someone in the crowd took the mic and asked the room: How many of you have had a bike stolen? Nearly every hand was raised. During Bike Theft Storytime, one woman stepped to the mic and made a heartfelt plea for folks to be on the lookout for her red Saracen mountain bike. She broke into tears sharing about her travels with the bike and how much it meant to her. These were real-life examples of the broad scope and personal impact of the problem.
We got another dose of reality when Marc Jolin, executive director of JOIN, and Halley Weaver, a life skills coordinator with Transition Projects, shared how bike theft is connected to the people they work with. Weaver said that her clients don't have cars and often can't afford public transit. To them, bikes are often the only way to make it to a job interview on time. Halley helped paint a picture of desperation that helped us understand why some people might resort to theft. Jolin urged the community to not paint with a large brush. "It isn't part of the definition of homelessness," he said, "that a bike is stolen."
Jolin and Weaver said one way to combat theft would be to provide more homeless people with reliable bikes. Also on the enforcement panel was PPB Officer David Sanders, who told us there's an estimated 800 unclaimed bikes in the property room right now that will eventually be sold at auction. "Why not donate some of those bikes to the homeless?" asked Jolin. That's an idea worth exploring. (I also mentioned my idea of using a portion of auction proceeds to fund a Bike Theft Unit in the PPB.)
Officer Sanders was a great resource last night. He's working hard on this issue; but it's clear the PPB needs to allocate more resources to the effort. One way we'll be able to help him make that case is by using data. Last night, Sanders shared a new data report that takes a closer look at reported bike thefts between 2012 and 2014. I'll share more about it in a separate post, but one stat that popped out at me was the total value of bikes stolen. According to the PPB, they handled $1.85 million in stolen bikes from January 1, 2014 through October. The total number is likely to be well over $2 million.
Why don't more people see jail time for this crime? Deputy DA Vivien Godsey told us that these cases are hard to prosecute. One reason why is that they are often delayed and victims either give up or never come forward to begin with. She urged everyone to help them build cases and gather evidence by reporting all suspicious activity to the police.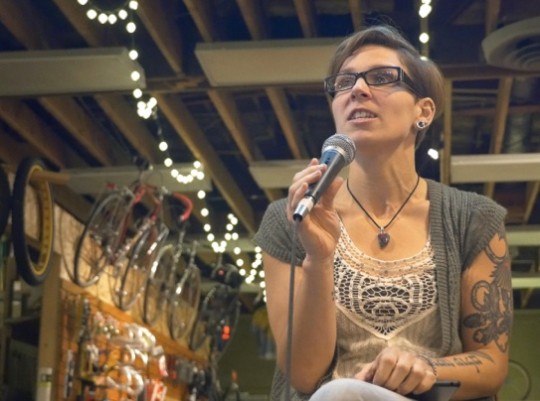 Halley Weaver from Transition Projects.
Our discussion about education, prevention and technology started with big news from the CEO of Project 529, J. Allard. His company reached their goal of 50,000 signatures on a petition asking eBay and Craigslist to require serial numbers on all listings. Holding a thick book full of pages of signatures, he said a copy of the book and a letter formally requesting the action was delivered to the heads of eBay and Craigslist on Monday. So far there's been no response. Allard said if he doesn't hear back soon, "ratchet up the pressure."
It was great to have 529's Allard seated next to Bryan Hance, a co-director of Bike Index. Both of their tools have similar goals and some overlap in functionality. Unfortunately, they don't share data. Bike Index's entire business model is based on open-source code that can be easily used and implemented by anyone with the coding chops to make it happen. So, why don't they team up and integrate their data?
"Our problem isn't integration," Allard said, "It's getting more data. We need more registrations." The way to do that, he added, is to simply keep spreading the word about the tools 529 offers.
Hance explained that one way Bike Index is tackling the registration gap is through direct integration of point-of-sale systems at bike shops. Bike Index is a certified partner of POS system used by thousands of bike shops across the country. They expect that in the next several months, many of these shops will be able to provide instant registration for every new bike sold.
Another way we can increase registrations is through the City of Portland's outreach efforts to new residents. PBOT staffer Danielle Booth works on a program that does outreach to new residents and gets them information about walking and biking. Among the materials they send in the mail is a bike registration card. "I know it's old-school," Booth said, "But these paper cards work too."
Our final discussion of the night was about parking. Where we park and what type of rack we use is often overlooked, but it can have a huge impact on security. Kiel Johnson, who runs the bike valet service under the Aerial Tram, happily shared that even after parking their 100,000th bike recently, they've never had a single theft. He'd like to see valets expanded throughout the city.
A different twist on a valet could be what Bikestation VP of Operations Todd Boulanger described as a "Smart Park for bikes."
While valets and automated parking facilities are nice, most of us primarily use the trusty blue staple racks provided by the City of Portland. Sarah Figliozzi with PBOT's bike parking program, told us security is something they're keeping in mind with a future redesign of their standard rack. The new design might include larger "feet" at the bottom of the racks. "That way," she explained, "Even if thieves unscrew the rack from the ground, they wouldn't be able to slide the u-lock through."
Our panelists were all excellent, but we also heard great questions and dialogue from the crowd. And of course, the event was also about networking. I loved watching all the side conversations and introductions that took place. For the first time, all the key players on this issue are getting to know one another. And more importantly, we're all learning how each of us fits into the bigger picture.This is how you grow the connective tissue that will eventually be strong enough to create change!
So, what's next?
First, rest assured that we'll stay on this topic here on BikePortland. We'll continue to cover the people, the problem, and the solutions every chance we get.
Next, I think we should focus on two main policy efforts: Establish a citywide Bike Theft Task Force, and create a Bike Theft Unit within the PPB. I look forward to sharing more about those initiatives as we move them along. But that's just my opinion, I'd love to hear what all of you think.
— Special note of thanks as well to Kai McMurtry @kainotkyle for live-tweeting the event, to Guthrie Straw for filming it, and to Velo Cult for hosting!