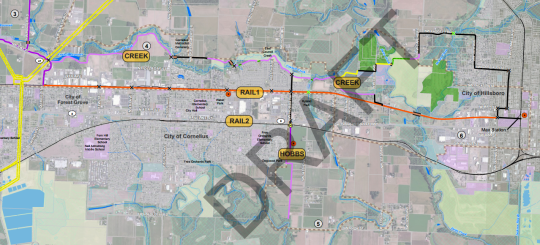 Two main options for one segment of the proposed Council Creek Regional Trail, in purple and in red.
(Source:
Metro
)
The multi-agency team that's planning a future off-road path across Washington County is trying to decide, among other issues: straight along the rails, or winding along the river?
The deadline for public input is next Wednesday, Nov. 19.
The question of how to connect Hillsboro and Forest Grove — by rail line or by riverside, as mapped above in red and purple — has proved less contentious so far than the question of how to connect Forest Grove to Banks. As Pamplin Media Group reported last month, some landowners have objected to the idea of a path running along their property.
Teufel-Hyneman said she sent Robbins petition signatures of a dozen property owners who oppose the trail and have formed an informal group they call Responsible Access Planning Environment (RAPE). Robbins said he received about 20 trail comments altogether.
Here are the many options for weaving across the farmland north of Forest Grove, from a planning document (PDF) on Metro's >website about the Council Creek Regional Trail project:
Lisa Frank, the Bicycle Transportation Alliance's Washington County advocate, wrote in an email that after considering the options, the BTA has no particular position about the best north-south route.
"Plenty of pros and cons for any of them," she wrote.
On the east-west segment, however, the BTA favors the straighter and more southerly railside route.
"The rail alignment is more direct, allowing commuters a shorter ride to and from Hillsboro, Cornelius and Forest Grove," Frank wrote in a letter to Forest Grove project manager Derek Robbins. "The rail alignment also provides the easiest connection to urban neighborhoods, local businesses, and transit within these communities. Utilizing the existing rail corridor also makes sense from an environmental perspective."
Benjamin Kahn, the BTA's intern on this issue, added that the rail route might have the added virtue of less controversy.
"It appears there would be fewer hangups in regards to acquiring the right of way," Kahn wrote. "The CREEK alignment runs up against residential properties and would likely require land acquisition from individual homeowners. The RAIL alignment uses an existing ROW from an infrequently used railroad line. That being said, the City of Cornelius view both options as viable and has not made any preference known."
To share your own opinions or get updates on the progress of the Council Creek trail plan, contact Robbins at djrobbins@forestgrove-or.gov or 503-992-3292.
Michael Andersen was news editor of BikePortland.org from 2013 to 2016 and still pops up occasionally.