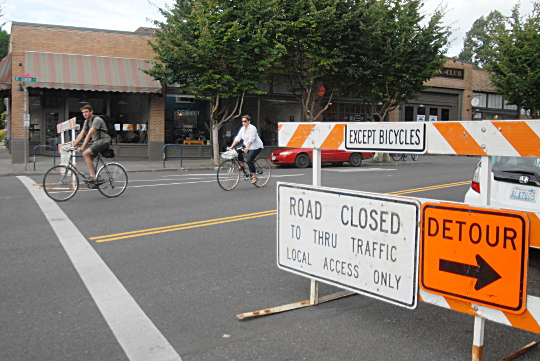 The city's two new temporary barricades at 26th and Clinton created a visual cue that reduced detour traffic onto the SE Clinton Street bike boulevard.
(Photo: M.Andersen/BikePortland)
Hours before a pair of protest rides were planned to start, the City of Portland on Friday used light barricades to reduce through auto traffic on Clinton Street during the remaining week of a detour for eastbound traffic on Division.
Portland Bureau of Environmental Services spokesman Joseph Annett circulated the revised detour plans in an email at 12:45 p.m. Friday.
"Woohoo!" Alex Reed, the organizer of a group of concerned Clinton Street users, wrote in an email to the group Friday afternoon. "We won our short-term goal."
Reed's group, which developed from a conversation on this site and held its first meeting last weekend, had drawn more than 20 riders to an earlier protest ride on Tuesday, attracting TV coverage. They followed up with an open letter asking for temporary diverters and a long-term change to city detour policies.
In a phone interview, Reed said a 4 pm ride on Clinton Friday afternoon would be changed from a protest to a celebration.
"We're going to say 'thank you PBOT' and talk about the long-term goal of changing the city's construction protocols for diversion to bikeways," Reed said. "I'm imagining that we would ride up and down the section where it's closed eastbound to autos to revel in how lovely it is, and then maybe go somewhere for ice cream."
The city had initially planned to direct all Division Street traffic onto Clinton during the two-week detour, which is required because of drainage and walking improvements to Division. Last week, the city changed that plan by installing electric signs that direct traffic to Powell at 11th Avenue. But the city had until today declined to install any infrastructure on the Clinton roadway itself.
Even without the detour, Clinton Street in the 10s, 20s and 30s has been carrying more than 3,000 motor vehicles per day, which is the maximum national standard for any stretch of bicycle boulevard. Some people who walk and bike on Clinton have been urging the city to install physical diverters that prevent through traffic on what's intended to be an all-ages street.
Bicycle Transportation Alliance advocate Carl Larson, who has been communicating periodically with city officials since last year in an effort to increase attention to bikes during construction detours, credited the group Reed organized for helping focus the city's attention.
"I think PBOT succumbed to our ongoing pressure to improve its work zones, coupled with excellent work on behalf of a new crop of activists," Larson said. "We hope that the city will see that it would have been cheaper and less embarrassing to do this right the first time."
Gerald Fittipaldi, who joined Friday's celebration ride, said the barriers "made an impact, too. There weren't many cars on there."
Doug Klotz, a longtime resident and Richmond Neighborhood Association leader who biked past the barriers at 5 p.m., called it a victory for street activism.
"You just need to have a bunch of people out making a bunch of noise," he said.
For his part, Reed said that after this afternoon's celebration ride, the agenda for the new advocacy group is to meet one week from Sunday at a location to be determined.
"We'll probably decide on the name and a draft identity or mission statement kind of thing," said Reed, who lives in the Foster-Powell area and bike-commutes downtown daily via Clinton. "And I would like us to start searching for the next action. … I'm hoping that the next action will be at an outlying or underserved area to show the group's commitment to equity."
If you'd like to connect to the group, contact Reed at bikeloudpdx@gmail.com or request to join its Google group.