CCC founder Brian Lacy in 1994.
In the past 20 years, Portland's Community Cycling Center has gone from a humble neighborhood bike shop on the corner of NE 24th and Alberta to a national leader in the bike advocacy world. This month they're taking time to look back and celebrate their achievements.
The CCC was the first non-profit bike shop in Portland when it started in 1994. It was established by Brian Lacy as a place where neighborhood kids could earn a new bike by helping refurbish old ones. Brian still lives in the neighborhood and these days he's more into bees than bikes. A few days ago the CCC released a video where Brian talks about the history of the organization (and there are some very cool vintage photos of the CCC in action!):
This anniversary is also an opportunity for the CCC to reflect on their success and define their future. They've produced an infographic that features a timeline of major milestones (click to enlarge):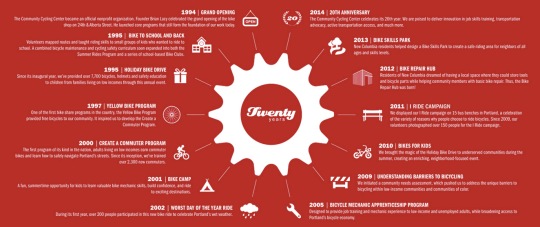 As for what the future holds, a short yet powerful sentence in their recent press release gives us a hint: "The Community Cycling Center believes that investing in underserved communities will have the greatest impact on the future of active transportation."
If you have questions or feedback about this site or my work, feel free to contact me at @jonathan_maus on Twitter, via email at maus.jonathan@gmail.com, or phone/text at 503-706-8804. Also, if you read and appreciate this site, please become a supporter.