Posted by Michael Andersen (Contributor) on May 27th, 2014 at 3:45 pm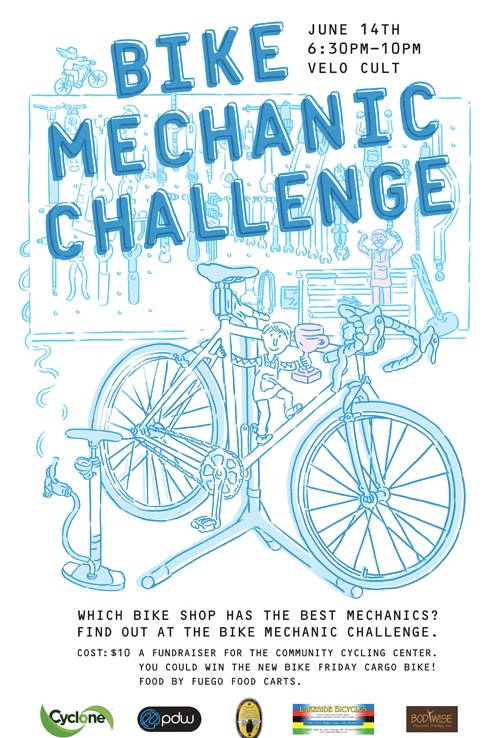 Who's the best bike mechanic in Portland?

Also, who's the best mechanic in Portland at getting a slightly tipsy crowd to cheer for them the loudest?
A June 14 benefit for the Community Cycling Center is now accepting contenders and inviting onlookers. More than eight local shops have signed up so far to compete, each nominating two mechanics for the friendly competition.
It's a first-time event here in Portland, being held at Velo Cult, 1969 NE 42nd Avenue in Hollywood.
Competitors will race to complete four challenges: changing the front and rear brake cables, changing handlebar tape on a road bike, changing the rear tire on a quick-release hub road bike and a surprise final event, plus tie-breaking knowledge questions.
The event will run 6:30 pm to 10 pm on Saturday, June 14. Food will be available from Fuego Food Carts and beer and other beverages can be purchased from Velo Cult's bar.
Bike shops pay $50 to compete, and public entry will cost $10 per person or $5 per person for bike industry workers. There's also a raffle to win a new Bike Friday cargo bike. All fees benefit the Community Cycling Center, Portland's nonprofit bike shop and biking-for-everyone advocacy group. You can register your shop to compete (PDF).