Come check out the new Splendid Cycles location
at the I *Heart* Cargo Bikes event tomorrow.
Like we do every week (thanks to Hopworks!), we'll post our Weekend Event Guide tomorrow afternoon. But since that guide only covers Friday through Sunday, and we've noticed several cool events happening before then, we figured a roundup was in order. With the big storm behind us we're itching to get back to our bike-riding, bike-loving ways.
Thankfully, the events below give us some excellent opportunities to do just that…
Tonight!
Dress Like Your Bike – 7:00 pm at Gladys Bikes (3808 N Williams Ave., Suite 132)
This event looks to capture the bike fashion version of how people sometimes look like their pets. It's a collab between Gladys Bikes and local fashion house Quick Study Clothing. The premise is simple: Dress up like your bike (shabby, chic, or whatever) and roll over to the shop for a party and a portrait. Word has is the professional portraits have filled up (was limited to first 24 RSVPs), but you can still show up and have your photo taken. One attendee will get two, $50 gift certificates from Gladys and Quick Study. More info here (FB).
Multnomah County Bicycle and Pedestrian Citizen Advisory Committee – 6:30 pm at County HQ (501 SE Hawthorne)
Multnomah County owns, operates, and manages all the major downtown bridges and popular biking roads like Skyline Blvd and the Sauvie Island loop. Join some great citizen advocates and County bike planners and engineers to get the latest scoops on major projects and policies.
Tomorrow – 2/13
I *Heart* Cargo Bikes Bash – 3:00 – 7:00 pm at Splendid Cycles (407 SE Ivon)
This kid and cargo-friendly event will celebrate two big milestones in Portland's cargo bike culture: Splendid Cycles' new location; and the official launch of local author Steph Routh's new book, How to Move by Bike: Tales & Tips to Inspire. Meet Steph and buy her book, and get to know Joel and Barb Grover, the wonderful owners of Splendid Cycles. There will be kids activities and storytelling from 3 – 5 pm and then free beer and lights snacks until 7. More info here.
Cycle Portland Supper Club: A Foodie Fieldtrip – 6:00 pm at 117 NW 2nd Ave (Tickets: $50)
Join the knowledgeable and fun folks at Cycle Portland Bike Tours for a Valentine's eve culinary feast on two wheels. Bring your special someone for a ride through Portland that will stop at three acclaimed local restaurants: Ford Food and Drink, Portobello, and Pix Patisserie. Tickets are $50 and include appetizers, dinner, desert and a professional route guide. Only 8 tickets available and you can register online. More info here.
Zoobomb Mini Bike Winter Craft Night – 7:00 pm at Portland Autonomous Zone (PAZ, 1625 SE Woodward)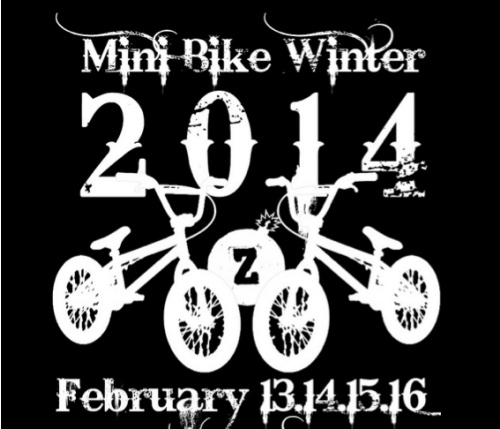 This is the opening event of the annual Mini Bike Winter hosted by our dear friends at Zoobomb. They'll have stencils and paint, so bring hats, shirts and jackets to print on. Then wear your Zoobomb gear proudly over the next three days of bike-related hijinx. More info here (FB).
Have fun and stay tuned for our Weekend Event Guide tomorrow.
If you have questions or feedback about this site or my work, feel free to contact me at @jonathan_maus on Twitter, via email at maus.jonathan@gmail.com, or phone/text at 503-706-8804. Also, if you read and appreciate this site, please become a supporter.