A Portland construction site in April 2013.
(Photo by
sciencesque
.)
People's seemingly boundless hunger to live in Portland, especially its bike-friendly eastside grid, will keep the apartment construction market booming in 2014, a local real estate expert says.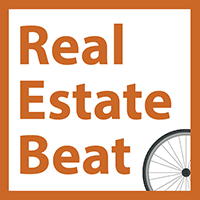 But that'll keep rents from rising quite as fast as they have been, he predicted.
"It looks like 2014 will again be all apartments, all the time," Greg Frick of HFO Investment Real Estate said in a talk at the Multnomah Athletic Club, echoing his firm's motto.
The surge of new units entering the market, he added, will probably drive up vacancy rates slightly and slow the rise of rents. Market-rate rents will probably grow a bit more slowly than the 6.6 percent hike the area saw in 2013, which was the third-highest rent increase in the country.
"The 2013 total of over 6,000 multifamily permits will be the highest number we've seen since the late 1990s," Frick said. "Close-in areas have the largest amount of new projects."
HFO has mapped the locations of 15,000 units currently being planned in the Portland area. The inner east and west sides now account for almost half the region's total apartment growth: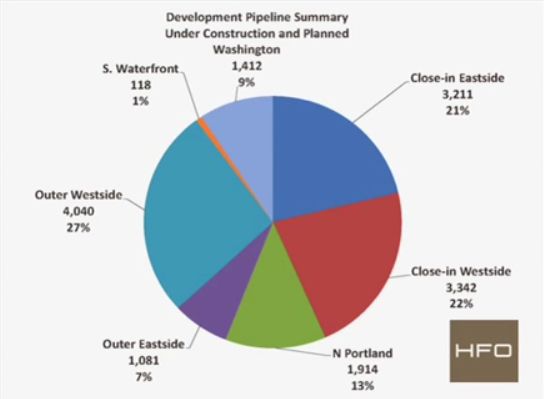 In part, Frick said, that's because banks and other investors are convinced that central Portland will remain desirable for decades to come: institutional investors building big apartment projects in the central city are knocking 0.5 percent to 1 percent off of their interest rates for developers that are able to increase the number of units in the city's precious core.
As we wrote in the first post of the Real Estate Beat, there are two ways to for a city to increase access to good bikeways: to expand its bike infrastructure to new areas, or to make it possible for more people to live in areas that already have it. For the moment, Portland is doing both — at least for those who can afford today's rents.
You can watch Frick's full report below.