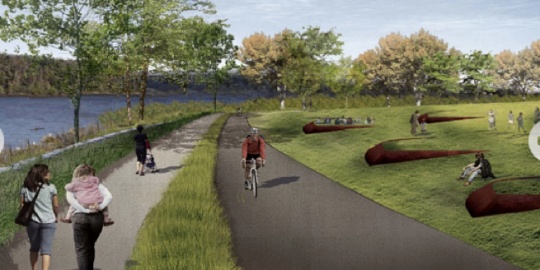 With funding just approved, this should be a reality by November.
The South Waterfront Greenway project got a much-needed boost from Portland City Council yesterday when commissioners voted to fund Phase 2 with $4.7 million from their System Development Charges account. The unanimous 4-0 vote (Mayor Hales was absent) came after a frank debate between Commissioner Novick, who voiced objections to the expenditure to former Parks & Recreation Commissioner Nick Fish and current Parks Commissioner Amanda Fritz.

With budget season in full force, Novick voiced concerns over yet another capital project moving forward without any funds earmarked specifically for ongoing operations and maintenance. Council was made aware by project staff that the annual maintenance tab for the greenway — which will like come out of the City's highly competitive General Fund — would be nearly $500,000. Novick ultimately relented with his objections and he made it clear he liked the project. "I just think it's really unfortunate," he said, "that the money for maintenance wasn't built into budget targets as soon as it was approved."
This path project has been planned for about 12 years. The ultimate vision is to connect it with the existing riverfront path that goes from the Sellwood Bridge to SW Bancroft Street. The "Central District" segment Parks is working on now, a quarter-mile section roughly between SW Gibbs and SW Lane, has proven to be much more expensive to build to due significant environmental clean-up and river habitat restoration also included in the project.
As we've reported in the past, the bikeway planned for this path will be higher quality than existing waterfront paths because it will be physically separated from the walking path.
At the Council meeting yesterday, the Commissioners (led by Fritz) spoke glowingly about the what this project will mean to Portland. "Not only is it a way to connect to nature in the heart of our city," said Fritz, "it is a vital link for commuters, an improvement for our quality of life, and a promise kept to the people of Portland living in what will be the state's most densely populated neighborhood." Commissioner Saltzman said finishing this Central District section is key in order to "get people excited about the other sections and keep the dream alive."
While commissioners were upbeat about the path itself, this vote likely sets up more Council debates in the future over how to pay for operations and maintenance in a bureau that already claims to have a $450 million maintenance backlog.
Phase 1 of this project has cost the City nearly $11 million. Work on Phase 2 is expected to begin this April and be completed by November 2014.
Learn more about this project on the City's website.