Gateway Green visionaries and tireless advocates
Linda Robinson (2nd from left) and Ted Gilbert
(2nd from right) at City Hall earlier this week.
(Photo: Friends of Gateway Green)
It just happened.
The state of Oregon's first ever public works project that tested the waters of public donations via a crowdfunding campaign has succeeded. The Friends of Gateway Green have raised over $100,000 to design and plan a 38 acre bicycle recreation park in east Portland. And with five days left in the campaign, project leaders say all the money raised over their goal will go directly to "putting shovels in the ground."
It's been over four years since Gateway Green became an official priority of the State of Oregon thanks to former Governor Ted Kulongoski's decision to make it an Oregon Solutions project. Since then, citizen activist extraordinaire Linda Robinson and real estate developer Ted Gilbert have worked tirelessly to put the pieces of this puzzle together.
For Robinson and Gilbert, this moment marks a major milestone in an effort that began more than five years ago when they first shared their vision with us.
Now, with an emphatic show of public support for this project, it seems construction of the first phase won't be too far off. In addition to paying design consultants and engineers to create shovel-ready plans for the parcel, the $100,000 raised was also important for what it stands for. When we sat down back in August with the Oregon Solutions folks to hear about their unprecedented plans to use Indiegogo, they made it clear that in addition to the cold, hard cash, this fundraising success would be vital to demonstrate to potential grant funders and other agencies that Gateway Green is for real.
Speaking of making this real… Check out the latest design concept map created by the Gateway Green design team (that's I-205 in the middle and the I-84 at the top):
In the past week or so, Gateway Green has enjoyed an amazing level of support — both from the public and from official quarters. October 1st was deemed 'Build Gateway Green Day' by Portland Mayor Charlie Hales and a press conference for the project was held at City Hall with Portland Parks Commissioner Amanda Fritz in attendance. The project also attracted financial partnerships from Kaiser Permanente (in the form of a $10,000 check), Coca-Cola North America (a $25,000 matching grant), Western Bike Works, and others.
Another big story with this accomplishment is that our regional community has once again stood up and said loud and clear: We love bicycling! And we want more places to do it off-road!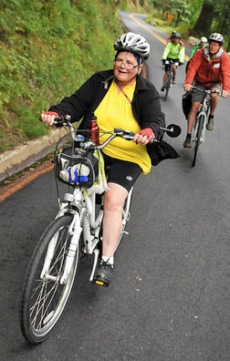 Linda Robinson riding in the gorge.
(Photo © J. Maus/BikePortland)
We just spoke with Wendy Willis, the executive director of the Policy Consensus Initiative (an affiliated national non-profit that partnered with Oregon Solutions to dream up this crowdfunding experiment) to get her reaction. "We're thrilled! I really cannot tell you how proud I am of the whole community."
"There are lots of projects we work on that are a struggle," she continued, "but this one feels like so many people pitched in it really is many hands make light work… that's what I think is really exciting about it. And it's not only the money they needed, now they have 600 new owners and friends of the project."
Willis said going the crowdfunding route for Gateway Green was an "experiment" and that its success gives her "tons of hope for other projects" (however, she did mention a possible negative aspect of crowdfunding could be that it might reinforce privilege).
As for what happens next, Willis says since the campaign to fund the design and permits has already reached its goal of $100,000, "As of a few minutes ago, we're into the constructions phase of fundraising."
Linda Robinson, the east Portland neighborhood activist that has been pushing for this project since day one, is understandably excited by the news: "I'm thrilled — absolutely thrilled — by the community support from bicyclists and non-bicyclists. For me, this is the reward for many years of work."
Robinson said early next year they'll start applying for large grants and sponsorships from the private sector. She also wanted the community to know that she learned a ride a bike for the first time just five years ago. "Before I started working on the Gateway Green project, I had never even thought about riding a bike — never! But it was working with people like you, Jonathan, and other bicyclists (including Jim Labbe, Tom Archer, Will Heiberg and others) that motivated me to take up bicycling. I was determined that if and when we had a groundbreaking ceremony for this project, I was going to ride up to the event on my bike like all the rest of you."
We can't wait for that ride Linda. Thank you for all your hard work and dedication to our community!
— Read more stories on Gateway Green in our archives.