The sixth annual Oregon Handmade Bicycle Show (OHBS) is this weekend and if you love fine bicycles, this is an event you won't want to miss. The OHBS promises to be a fantastic showcase of expertly executed designs, meticulous builds, and a chance to meet and hang out with the builders behind the headbadges.
The OHBS is put on by the Oregon Bicycle Constructors Association, a member-supported non-profit organization formed in 2006 with the aim to promote Oregon bike builders. The bike show is their largest annual event and its a great way to support the industry.
Organizers of this weekend's event say we can expect about 30 exhibitors. Along with some of the local builders you've come to expect at this show, there are a few new ones that will make their OHBS debut on Saturday:
VeloBadge
VeloBadge is the work of Seattle-based craftsman Jeff Tauber. He specializes in custom headbadges and he's got quite an impressive catalog. Jeff got his initial inspiration to make custom headbadges while living in Portland where he noticed a lot of customized and individualized bikes were missing one thing: "It seemed that every part of these custom rides were handpicked and specifically designed to ensure they represented what the rider was all about. However, we realized that one important detail was missing, that small finishing touch: a stylish, personal custom bicycle head badge."
Ruphus
Ruphus is a Portland company that makes "modern lifestyle products" out of wood. Bicycles are one of their many muses and they've designed a bamboo bike, a wooden rear fender, and a bikey iPhone dock.
Igleheart Custom Frames and Forks
Chris Igleheart is far from a newbie when it comes to the bike building scene; but he is a recent transplant to Portland. This veteran builder moved here from Massachusetts last year and he attended the 2012 OHBS with Chris King's Cielo Cycles. Since last year, he has left Cielo and is now focused full-time on his own frames and forks. For more on his work, check out the Q & A we published in 2009 and read about his nifty top cap light switch we stumbled across at the 2012 NAHBS.
(Photo © J. Maus/BikePortland)
Contes Engineering
Contes Engineering is sure to get people buzzing at this year's show. These guys make amazing, four-wheeled, full-suspension bicycles that are designed and engineered here in Portland (they are made in southern California). Dubbed "Athos", this rig, "represents the arrival of a daydream into the real world," reads the company's website. "Inspired by BMX, Freestyle, Downhill and Motocross, Athos marries the intense stability and handling characteristics of a quad with the flexibility of a bicycle." I've got to see this thing to believe it.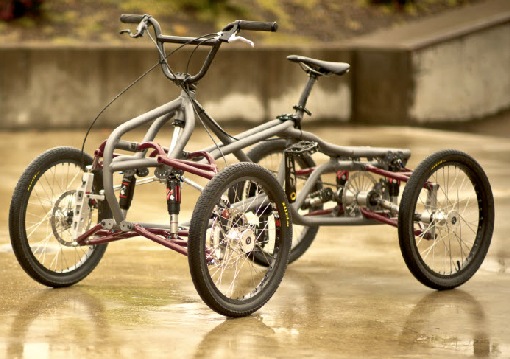 If that's not enough to sufficiently whet your appetite, check out the full list of exhibitors below.
Ahearne Cycles
Baker Loves Bikes
Cielo Cycles
Chris King Precision Components
Co-Motion Cycles
Coyle Helmets
Helavna Cycles
Littleford Cycles
Miles Ramsey
Ninkasi Brewing Company
North St. Bags
Paul Component Engineering
Pioneer Bicycles
Point West Credit Union
RAD Finishes
Risse Racing Technology
Rolf Prima
Strawberry Bicycle
Swift Industries
Ti Cycles
Thursday Bicycles
United Bicycle Institute
VeloCult
Vendetta Cycles
Winter Bicycles
That's a lot of great stuff! And to further inspire your attendance, here are a few of my favorite bikes and photos from years past:
Vulture Cycles' "Mini-Velo" was a huge hit last year.
Daniel Coyle's wooden helmets must be seen to be believed.
Copper penny bike by Belladonna Cycles.
Jonathan Littleford's sweet, rugged, and small step-through.
A modern classic from Winter Bicycles.
Huge crowd at the first show back in 2007!
This year's show will happen at Sandbox Studio (420 NE 9th Avenue) on Saturday from 10:00 am to 5:00 pm and Sunday from 11:00 am to 4:00 pm. Tickets are available online for $8 until tomorrow and $10 at the door. Weekend passes are $15 pre-sale and $20 at the door. Proceeds support the OBCA and the bike building industry in Oregon!
For photos and recaps of past OHBS shows, check out our archives.