Dozens of curious Portlanders visited bike-culture hub Velo Cult Wednesday night to pore over a series of ideas for how to transform our city in the way the Dutch people decided to start reshaping theirs forty years ago.
"Though we remain America's best city for bicycling, Portland has stagnated something fierce at a time when many other cities are recognizing the value of bike-friendliness," event contributor Brian Davis wrote yesterday in a preview for PortlandTransport.com. That perspective captured the attitude of many who attended.

"They're working on the Central City Plan; they're working on the Comp Plan," said Arnoud Van Sisseren, a Portland Bureau of Transportation volunteer and a Dutch native himself. "If we have that vision, it should translate in all the plans. … I'm at PBOT; I see what's happening. It's not enough. It's not enough."
Others disagreed with some of the ideas put forward. Ethan Jewett, who lives near Ainsworth Street and gets around largely by bike, called a proposal to run a two-way cycle track and walkway down the middle of Ainsworth's grassy median "hooey."
"There's a neighborhood greenway a block from there," Jewett pointed out.
Jewett was one of many, though, who liked the sketch of a "bike highway" running along the hillside above Interstate 84.
"Cars get highways," said Karla Kingsley, a transportation analyst for Kittelson and Associates who often gets around by bike. "I should, too."
Here are the six visualizations shared last night. (NOTE: Click each of the "after" images for a link to the (very large) PDFs that were on display at the event last night. Each one includes a close-up of design details, a list of "What's stopping us," and examples of specific Portland locations where the treatment might work.)
"Bicycle highway," before…
…and after.
"Parkway path," before…
…and after.
"Downtown carfree streets" before…
…and after.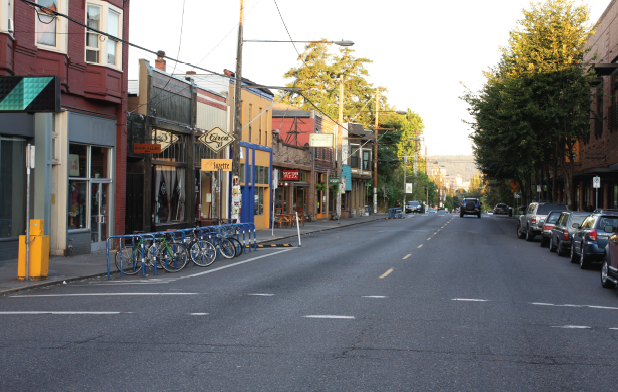 "People places," before…
…and after.
"Carfree alley connection," before…
…and after.
"Protected intersection," before…
…and after.
The event was organized by Portland's new chapter of Young Professionals in Transportation, a new group that includes people with an impressive variety of backgrounds: nonprofits, for-profits, schools and government. (The leaders include Jesse Boudart and Anais Malinge of Kittelson and Associates, Heather McCarey of the new Washington Park TMA, Evan Corey and Brie Becker of Nelson\Nygaard, Jeff Owen of TriMet and Adam Moore of Portland State University.) The group, which formed in April, seems to be full of energy and interesting ideas; you can follow them on Twitter or LinkedIn.
Jonathan and I both attended this event and we're excited to be seeing a debate emerge locally about what exactly the obstacles are to making changes like these in Portland. Stay tuned for more — we're hoping to host a fascinating, well-informed exchange that emerged between a city staffer who attended and a couple of the event organizers.