Posted by Jonathan Maus (Publisher/Editor) on May 8th, 2013 at 3:43 pm
This should do the trick.
(Photo: Bob Kofstad/Washington DOT)
Last month, a woman driving a medium-sized sedan somehow managed to travel nearly two miles on the I-205 bike path before she panicked and a passerby on a bike called 911.
And it turns out this was the second such incident in the past few months. That's what I heard today from Washington Department of Transportation spokeswoman Abbi Russell. I contacted WSDOT a few weeks ago after a reader told me that bollards had gone up at the entry to the path on SE 23rd Street. I was finally able to confirm that today with the man who put them there.

Bob Kofstad is the WSDOT maintenance supervisor for Area 1 which covers Vancouver. He told me during a phone call today that he still doesn't know what exactly happened with that woman back on April 21st; but it caused him to visit the site and replace the bollards. "They've been missing for a few years," he said, "and in the last 3-5 months we've had a couple cars go down that trail."
The reason Kofstad says WSDOT hadn't replaced the missing bollards sooner is because they kept getting stolen by metal thieves. "So we came up with a different design," he explained, "We took a plastic fence post and filled it with concrete."
Here's another photo from a wider angle that was sent in by reader Eric Lanners: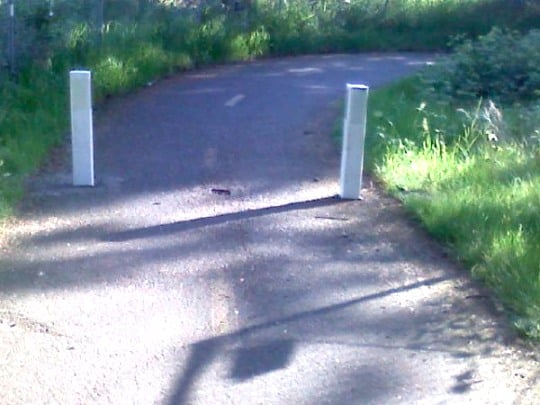 (Photo: Eric Lanners)
The path is meant to have three bollards, but Kofstad says they replaced only the two on the outside. "It's enough to keep the cars out, but we understand going through a narrow passage isn't the best thing for bikes. The safety of bikers is what we're worried about." He estimates the path is 8-10 feet wide and the bollards narrow it down to about 6 feet.
If you ride on this path and you have feedback for WSDOT, or if you need to report any other incidents, contact Abbi Russell via phone at (360) 905-2058 or via email at russela [at] wsdot [dot] wa [dot] gov.
Jonathan Maus is BikePortland's editor, publisher and founder. Contact him at @jonathan_maus on Twitter, via email at maus.jonathan@gmail.com, or phone/text at 503-706-8804. Also, if you read and appreciate this site, please become a supporter.