The Portland edition of the Ride of Silence will take place on May 15th. The ride, which is meant to honor people who have been injured or killed while bicycling, marks its 10th anniversary this year. Portland first took part in 2006 and we'll join hundreds of cities around the globe in a slow, silent procession through the streets.
Organizers of this year's ride have planned an easy route and are asking everyone who shows up to wear white shirts and black or red armbands to, "add to the visual message of the silent ride." Everyone is welcome at the event and there's no admission fee. A few people plan to speak briefly before the ride, which starts at 6:00 pm at Chapman Square in downtown Portland. That location is just yards from SW 3rd and Madison, where Kathryn Rickson was struck and killed while bicycling on May 16, 2012.
Portland small business owner Brian Echerer has organized several Ride of Silence events in past years. He says the event is all about raising awareness. "As a driver and cyclist the Ride of Silence is important because even in 'Bike Town USA' awareness still has to be raised on a continual basis. Learning to be aware of your surroundings while driving or riding is just so important because it only takes a moment to change a life, forever," he shared via email this morning, "It's my hope that the RoS becomes that message in Portland, where it is still very much needed."
"Infrastructure is not enough, we need public awareness."
— Russ Willis
Northeast Portland resident and bike activist Russ Willis echoes Echerer's perspective. "Yes, we have a seven or eight percent mode share, we have a city transportation bureau that 'gets it,' and we have bike lanes and sharrows and green boxes all over the place, but people are still getting injured and killed," he says, "infrastructure is not enough, we need public awareness."
As to what kind of public awareness, Willis adds it's all about sharing the road. "Which is not to say there is not baggage on both sides." While he acknowledges people have responsibilities and must abide by the same rules whether they're biking or driving, Willis says, "The ride is about educating people who are operating much larger and more dangerous machines that they need to pay attention."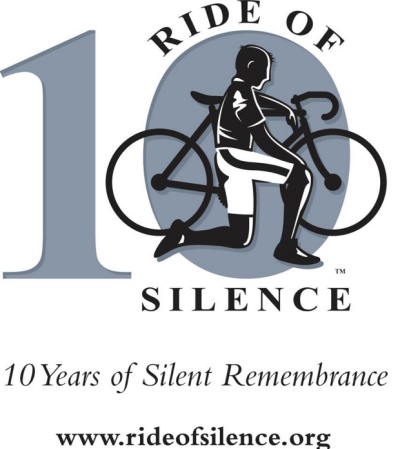 Portland is one of the three Oregon cities that will participate on the 15th. Rides are also planned in Corvallis and Salem. Learn more about the ride via Facebook or at Ride of Silence.org.
Browse past coverage of the Portland Ride of Silence in our archives.
If you have questions or feedback about this site or my work, feel free to contact me at @jonathan_maus on Twitter, via email at maus.jonathan@gmail.com, or phone/text at 503-706-8804. Also, if you read and appreciate this site, please become a supporter.