Posted by Jonathan Maus (Publisher/Editor) on March 20th, 2013 at 10:52 am
Screenshot of CrowdSupply.com.
A Portland-based crowdfunding startup that launched this morning has strong cycling roots. Crowd Supply, a twist on the Kickstarter concept, was co-founded by noted web entrepreneur Lou Doctor and Scott Torborg. Doctor is also co-founder and Chairman of the Board at Velotech, which is the parent company of Western Bike Works, BikeTiresDirect.com and other e-commerce properties. Torborg is an MIT-trained hardware engineer and son of Jay Torborg, the co-founder and CEO of Velotech.
With these two and other "bike geeks" (as described by Crowd Supply Project Manager Patrick Croasdaile) on the Crowd Supply team, it should come as no surprise that two of the 10 initial projects launched by the company are bike-related. But before I get into those, it's worth noting how Crowd Supply works.
Unlike other crowdsourcing platforms, Crowd Supply allows inventors and entrepreneurs to take their product all the way from idea to market. Crowd Supply not only manages the fundraising campaign (similar to Kickstarter with backers and an all-or-nothing premise), they also give funded projects an e-commerce website, assist with order fulfillment, warehousing, and other business development needs. Anyone can apply to be on Crowd Supply, but they have final say on which ones get approved. So it's essentially a curated list of products and companies they believe in and want to work with going forward.
Two of Crowd Supply's projects that launched today are notable for the local bike industry: Asylum Cycles' Meuse cyclocross bike and the LIT tire unveiled by Bike Soles.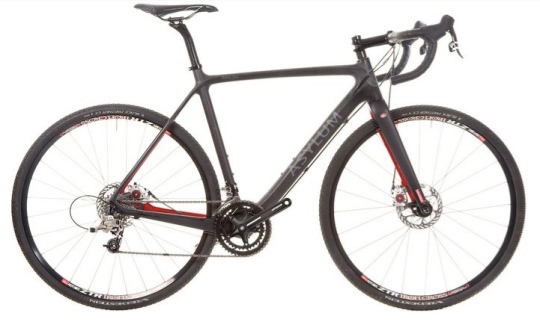 The Meuse cyclocross bike by Asylum Cycles.
Asylum is an old mountain bike brand that has been dormant for a few years but has re-launched now that its founder, Chris Currie, has moved back to Portland. Currie, who founded venerable online bike retailer Speedgoat Bicycles in 1997 and sold it in 2011, is Velotech's marketing director. Currie is now behind the Asylum Meuse carbon fiber cyclocross bike that's looking to raise $40,000 through Crowd Supply.
The LIT tire by Bike Soles.
Bike Soles is another new bike brand based in Portland that is launching via a Crowd Supply campaign. Their first product is the LIT tire that comes with a wide, reflective sidewall. Targeted at the urban commuter market, the LIT tire comes in 700 x 28 size. The tires will by a "major European tire maker" and investors behind the product are looking to raise $15,000 to for the first big production run.
Crowd Supply has teamed up with the Bicycle Transportation Alliance (BTA) who has agreed to help promote the tire in exchange for a $1 donation to the non-profit from Bike Soles for each tire that's purchased during the Crowd Supply fundraising campaign.
Project Manager Patrick Croasdaile (who recently left his gig at Planet-X/Titus) said while Crowd Supply won't only do bike projects, "we are very passionate about the cycling industry." "Because we're located in Portland and we're supported by investors who care a lot about cycling, we are a natural fit for up-and-coming entrepreneurs in the cycling community in Portland and beyond."
Keep an eye on these projects (and future ones) at CrowdSupply.com and read more about the company from the Portland Business Journal.