Jay Graves, the former — yes former — owner
and president of Bike Gallery, as seen yesterday.
(Photos © J. Maus/BikePortland)
Jay Graves announced his retirement as owner and operator of the six-store Bike Gallery chain this morning.
Graves has passed on management duties to longtime Bike Gallery employee Kelly Aicher. Aicher now has an ownership stake in the company and he'll also be the general manager of the six stores. Bike Gallery has been acquired by Mike Olson of San Diego, California-based Trek Bicycle Superstore, which is the number one Trek retailer in America.
This marks the end of an era for bicycling in Portland.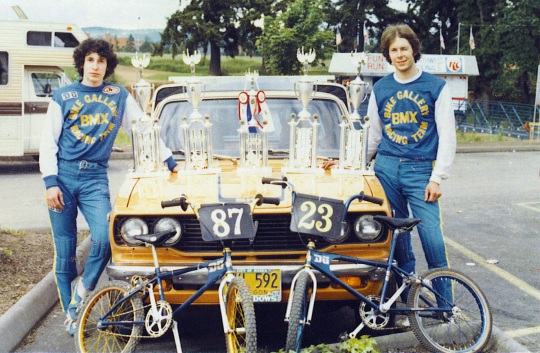 Jay Graves (right) with friend Ben Joy in 1978.
Jay, 54, started working at the Bike Gallery when he was just 15 years old. His first boss was his father, Bob Graves, who opened the shop as a side job in 1974. Back then, Jay worked with his dad and two sisters to get the store off the ground. The family ran the stores together for 23 years before Jay took over for his father. Today, Bike Gallery has over 100 employees and is the eighth largest Trek dealer in the U.S.
"I'm looking for what else is out there. I've been so focused the last 39 years on running a business. I'm really excited about what's going to arise."
Jay says his decision to step away from Bike Gallery wasn't an easy one to make. For Jay, Bike Gallery is much more than just a bike shop, and the team he built to run it are much more than just employees. Jay stopped by my office to share the news yesterday and he teared up, saying, "This isn't a decision you make easily. It's been three years… a soul-searching, heart-wrenching process. Because it's family… The relationships are the hardest thing… "
With nearly four decades on the retail side of the bike industry, Jay has seen a lot. "When we started, it was the 10-speed craze, then the BMX craze, then the mountain bike craze, then the Lance craze, and now the commuting craze. You know, at some point, you say, 'OK, I've done that, for almost 40 years, and I'd like to do something else.'"
He is still passionate about bicycles, and he said he'll always be a "Bike Gallery ambassador"; but he's ready to devote himself fully to other pursuits. Graves is vice chair of the Oregon State Parks Commission and he's a founding and current board member of Cycle Oregon. In that capacity he provided seed funding for the Community Cycling Center, the Bicycle Transportation Alliance, and countless other advocacy efforts.
Here are a few photos I've taken of Jay through the years (see more here)…
Jay was always helping people, as shown here at the Cycle Oregon Weekend Ride in 2008.
---
Jay as Portland biking superman at the 2009 National Bike Summit.
---
Jay (left) with Trek President John Burke at the 2007 National Bike Summit.
---
Jay (left) and Cycle Oregon co-founder Jonathan Nicholas somewhere in eastern Oregon in 2006.
---
Jay with Congressman Earl Blumenauer at the launch of Portland's Platinum award campaign at the downtown Bike Gallery in 2006.
---
Presenting a new Trek Portland bicycle to Rep. Blumenauer in his D.C. office in 2006.
---
Jay (in the suit) riding with former Oregon State Senator Jason Atkinson at the 2009 Oregon Bike Summit in Salem.
---
L to R: Alison Graves, Jay Graves, U.S. Senator Jeff Merkley, Jerry Norquist, Chris Distefano, Scott Bricker. (National Bike Summit 2009)
---
Trackstanding during the bike rodeo at Cycle Oregon 2007.
When I asked what advocacy project he's most excited about, Jay mentioned the Salmonberry Trail project, which, when completed will be a 90 mile paved trail (a "linear state park") that will connect Banks to Tillamook via the Coast Range. Other advocacy work he plans to stay involved with includes the National Bike Summit, the Oregon Active Transportation Summit, and so on.
Knowing his passion for bike advocacy and his hard work ethic, I asked Jay if he had any plans on formalizing his advocacy work or perhaps starting a new group or big project. He smiled, then said, "I'm not committing to anything for six months." Then a few minutes later he asked if I'd correct that. "Actually, you should write one year… Or at least six months. I know I'll get antsy."
"I've been so focused the last 39 years on running a business. I'm really excited about what's going to arise."
If you're one of Bike Gallery's many loyal customers, don't expect anything to change. Jay says all the existing senior management is excited about the changes because it raises the possibility of fresh thinking and new ideas.
Jay spoke very highly of Kelly Aicher. Aicher has been with Bike Gallery since 1996 and he has 26 years of experience in the bike industry. Aicher has also been Bike Gallery's lead in managing their support of the Cycle Oregon event, an event that is very near and dear to Jay. If you go on Cycle Oregon this coming year, you'll still see Jay, up before sunrise, fixing bikes for the day's ride.
When I spoke to Jay yesterday, he was understandably emotional as he shared the news. He was clearly sad to be leaving Bike Gallery, but he was also in great spirits and seemed very excited about what his future holds.
"I'm looking for what else is out there. I've been so focused the last 39 years on running a business. I'm really excited about what's going to arise."
"I still love bikes. It's going to be weird, starting next week, saying, I want to go into one of my bike shops, but it's not mine anymore," he said, laughing at how strange those words sounded.
---
— It's not possible to put into words what Jay Graves has meant (and will continue to mean) to bicycling in Portland, Oregon, and beyond. His email signature includes the quote: "Every day, we have the opportunity to change someone's life through bicycling," and he lives and breathes that mantra. I am proud to say that Jay was my largest supporter during the early days of BikePortland. His financial and moral support was a major part of why I chose to take the risk on this site. He helped me — and more importantly my wife/CFO Juli — believe that BikePortland could be a viable business and that it was all worth the effort.
Thank you Jay. And congratulations! I can't wait to team up on some big advocacy issues and projects!