The last day for Bike Gallery's SE
Division store will be December 4th.
(Photo: Bike Gallery)
With so many bike shops in the Portland region (70 or so at last count), it can be tough keeping track of them all. Lucky for you, I happen to cover this beat full-time and it's sort of my job to know this stuff. On that note, read the updates below for the latest bike shop news I've heard about…
Joe Bike to open second store
Joe Bike, a commuter/utility and cargo bike specialty store, is opening a second location. Joe Bike owner Joe Doebele has outgrown his small, 600 square-foot storefront on SE Hawthorne Blvd (at 39th) that first opened back in late 2008. The new store will be just a 1/2 mile south of the Hawthorne store at 2039 SE 39th (at Lincoln). The original store will remain, but only for repairs, accessories and clothing sales.
The new store is a former corner grocery market. Check out the street view image of the new location below…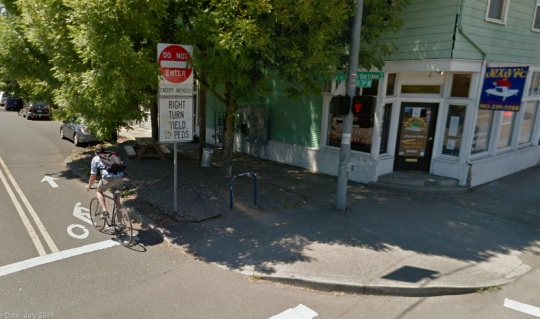 The larger store will allow Joe to stock more bikes and more brands. The location is prime for bike traffic. Lincoln is a popular bike boulevard and right outside the door is a small public plaza space that Joe Bike will maintain. Joe says he plans to spruce it up and use it as a gathering spot for group rides, as a place to serve coffee and bagels on Monday mornings, and so on.
One final note, Joe has hired bike-based contractor Chris Sanderson of Builder By Bike to do the renovations and improvements on the new store. Look for a soft opening in January.
Bike Gallery on the move
Bike Gallery has closed their location at 10950 SE Division and plans to open a new store about five miles south in the Johnson Creek Shopping Center at 9351 SE 82nd Ave. The new location offers Bike Gallery a much better retail environment, says store owner Jay Graves. The new location is right next door to a Trader Joe's and across the parking lot from a Fred Meyer. It's also just two blocks off the I-205 bike path.
The existing location on Division will be open through December 5th. The new store opens for business on Saturday, December 8th.
Green Garage is gone
The Green Garage, a shop opened by Oregon native and former Bike N' Hike employee Bill Fasano in October 2011, is no longer open for business. The shop was located in a brick building on N. Mississippi Ave, across the street from Widmer Brewing on Interstate. However, I've noticed all Bill's signs are gone and the shop looks to have been packed up. I haven't heard anything from Bill about it, so I assume he's moved onto other endeavors. If anyone knows more details, please let me know.
">
Sunset Cycles owner Roger Colwell.
(Photo © J. Maus/BikePortland)
Sunset Cycles closes Beaverton store
Sunset Cycles owner Roger Colwell said a mix of economic concerns and unfavorable new lease terms on his Beaverton location (16305 SW Barrows Rd) have forced him to close it down. Colwell will consolidate his offerings and his energy into his original location in the Bethany Village Shopping Centre (15320 SW Central Drive). The Beaverton store, which opened in May 2011, will be open through January and you can find up to 60% discounts on remaining bikes and accessories.
— Catch more bike shop news in our archives.