The bike lane on SE Madison St. as it approaches the Hawthorne Bridge just got a three-foot buffer this morning. This is one of a trio of projects coming to the east and westbound approaches that we can expect in the next few months as part of a joint effort by Multnomah County (they own/manage the bridge) and the Portland Bureau of Transportation (PBOT) to improve bike access.
This first phase has added a three-foot buffer to the existing six-foot wide bikeway on Madison west of SE Grand Ave. According to the County, the new striping, "will provide greater separation for westbound bicyclists and motor vehicles on the popular bike bridge."

The new striping begins where the existing, double-wide bike lane ends just west of Grand Ave and it continues all the way to where the bike lane transitions up onto the sidewalk at the TriMet bus stop (above SE Water Ave). The plans call for chevron marks inside the buffered zone (see work order below); but as of this morning those markings were not there*. When I observed the area this morning, I noticed many people on bikes using the new buffer zone as a passing lane.
There are no plans to install plastic bollards or any other type of material that would create a physical (not just paint) separation.
Here's how it looks looking eastward toward SE Grand…
And if you're so inclined, below is the official PBOT work order for the project: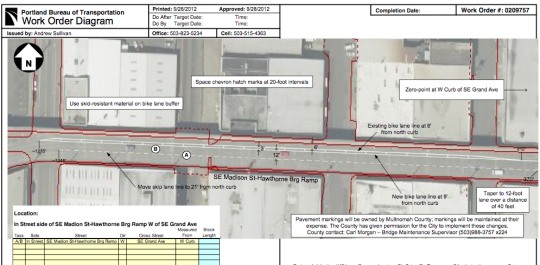 PBOT work order (click to enlarge)
Stay tuned for more changes to Madison and Hawthorne on the eastern ramps of the Hawthorne Bridge. In 2013, the County and PBOT plan to address the area where people bicycling mix with walkers near the TriMet bus stop on Madison (above SE Water). There's also a project in the works to re-stripe the bike lane on eastbound Hawthorne where it crosses the SE Clay off-ramp. Current plans call for a new sidewalk and buffered bike lane leading up to SE Grand.
Did you notice the wider bike lane riding into work this morning?
*PBOT engineer Andrew Sullivan tells me that the chevrons should be added sometime in the "near future", hopefully by the end of this week.
If you have questions or feedback about this site or my work, feel free to contact me at @jonathan_maus on Twitter, via email at maus.jonathan@gmail.com, or phone/text at 503-706-8804. Also, if you read and appreciate this site, please become a supporter.