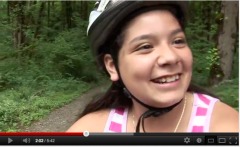 Still from new video
As we shared back in July, the Northwest Trail Alliance (NWTA) held their first summer kid's camp this past summer. A new video (watch it below) released today shares the impact that camp had on the kids, in their own words.
Over the four day camp, 20 kids (led by experienced guides) visited different riding spots throughout the Portland region. They learned about nature, how to be good trail stewards, and of course, they learned how to ride in a way most of them had never even considered before. It's one thing to hop down a curb in front of your house, but it's an entirely different experience to roll over a log while riding down a trail in the forest, or to move smoothly over a berm at a pump track at the local park.
In a world where headlines and research constantly remind us that physical inactivity is killing our kids and our public forests are parks are crumbling due to a lack of maintenance and public support, it seems to me like giving kids more opportunities to ride mountain bikes is a no-brainer.
If you know a kid who would like to give this a try, you're in luck! The NWTA is gearing up for the annual Take a Kid Mountain Biking Day on Saturday, October 6th. The event will be held out at Stub Stewart State Park (between Banks and Vernonia, about a 45 minute drive from downtown Portland) and you don't even need a bike to take part. The Hillsboro Parks & Recreation department will provide free mountain bike rentals for kids and Bike Gallery will have demo bikes for adults to use. In addition to guided rides, there will also be free lunch and snacks, a video screening, and other activities.
You can register for this free event and learn more at NW-Trail.org
As this video shows, getting kids out on mountain bikes can be a powerful force for good. It's also something that reaches far beyond the extreme sport imagery many people associate with the activity. Thanks to Dan Kaufman of Crank My Chain TV for making the video and thanks to the NWTA for all their great advocacy.
If you have questions or feedback about this site or my work, feel free to contact me at @jonathan_maus on Twitter, via email at maus.jonathan@gmail.com, or phone/text at 503-706-8804. Also, if you read and appreciate this site, please become a supporter.