Posted by Jonathan Maus (Publisher/Editor) on July 26th, 2012 at 1:08 pm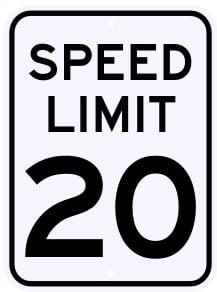 Portland is about to embark on a new era in traffic safety. The Portland Bureau of Transportation (PBOT) is prepping plans to install 250-300 new 20 mph speed limit signs throughout the city's expansive network of bike-friendly streets known as neighborhood greenways. The plans come after the City and advocacy groups worked to pass a new law in the 2011 legislative session that, for the first time, gave PBOT the authority to change existing speed limits without going through the Oregon Department of Transportation.
The law gives PBOT the authority to lower the speed limit on certain residential streets by 5 mph. There are specific criteria that must be met before a street can get the 20 mph signs such as; the number and speed of motor vehicles and the types of engineering improvements that are installed. The law also said each roadway must be specified in ordinance and passed by City Council before going into effect.
According to PBOT spokesperson Dan Anderson, City Council will vote on that ordinance (which will include a map with the streets that will get the new signs) in early August. If the ordinance passes, crews would begin installing the signs immediately and Anderson says the signs could be up in late August or early September.
20 mph is considered a key measure of success for making streets safer and more appealing for humans. According to PBOT, when a collision occurs between someone driving a car and someone walking or biking, there is very little to no chance of fatal or serious injuries. Just five miles per hour faster, at 25, there is a 5% chance someone will die and a 65% chance of injury. The chart below was produced by PBOT to show how speeds effect stopping distance and injury risk.
Back in 2010 I highlighted the "20s Plenty" campaign from the City of London.
The cost of the new signs — including the pole they'll be attached to — is about $150 each, bringing the total cost of this first wave of installation to about $30,000 to $45,000 (depending on how many poles are needed).