Survey results suggest that patrons who arrive by automobile do not necessarily convey greater monetary benefits to businesses than bicyclists, transit users, or pedestrians.
— From TR News article
Does your mode of transportation have any relationship to how much you spend at restaurants and bars? That's the question researchers at Portland State University set out to answer when they embarked on a study last year. I spoke with lead researcher Kelly Clifton at the outset of this project and now she's had some preliminary data published in the most recent issue of TR News (the magazine of the Transportation Research Board).
The impetus for this research came from the common perception among business owners that auto access equals business and anything that impedes auto parking or auto capacity on roads near their business will hurt their bottom line. We all know how this plays out: A city announces plans for a new bikeway and immediately there is push-back from business organizations and/or business owners. We've seen examples of this play out all over Portland, most recently on SW 12th Ave.

Clifton (an Associate Professor of Civil and Environmental Engineering at PSU's Maseeh College of Engineering) and her team set out to see if those fears have merit. Using intercept surveys, they asked people at a variety of Portland-area bars, convenience stores, and restaurants how much they spent, how often they shopped, and whether they showed up via public transit, on foot, by car, or by bike. The study also focused on different locations to see if there were differences between spending habits in central business districts, the urban core, neighborhood centers, or suburban areas.
"Survey results suggest that patrons who arrive by automobile do not necessarily convey greater monetary benefits to businesses than bicyclists, transit users, or pedestrians. This finding is contrary to what business owners often believe."
People who drive to these establishments spend more per visit; but bike riders visit more often and therefore spend more overall. For example, the data shows that people drove to a convenience store an average of 9.9 times per month and spent $7.98 per visit for a total monthly expenditure of $79.73 while people who biked made 14.5 convenience store visits, spending $7.30 per trip for a total of $105.66 per month.
And here's a chart with all of the numbers:
While the vast majority of people surveyed arrived by car, the auto drivers spent the lowest amount per person/per month when compared to those who biked, walked, or took transit.
Here's the chart of spending per visit, in the different types of districts: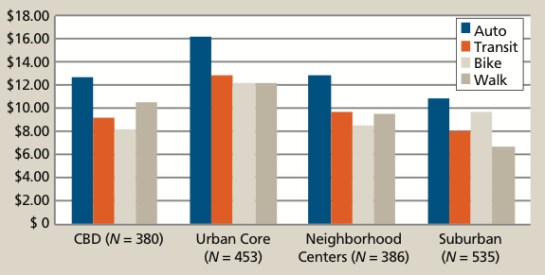 Looking at these initial survey results, Clifton says that, "These results suggest that marketing to cyclists is likely to generate a positive expenditure return for businesses in the right context."
Clifton's ongoing research will look to gather more evidence and data. In the next steps of the study she plans to control for things like, "establishment characteristics, customer demographics, and the built environment near the business."
So far, this sounds like great news for cities and this research should help build the already strong case for the development of better bicycle and human-centric access (like the City of Chicago's "people spots") near businesses.
This research is funded primarily through the Oregon Transportation Research and Education Consortium. Clifton (who you can read comments from below) says the final report will be done in about a month. Elly Blue has also posted her take on the study here.
— Download the TR News article, Business Cycles: Catering to the Bicycling Market by Kelly J. Clifton, Sara Morrissey and Chloe Ritter here (PDF).