Posted by Jonathan Maus (Publisher/Editor) on July 6th, 2012 at 12:46 pm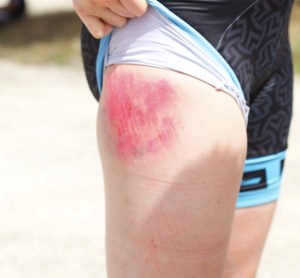 Strong winds on Stage 2 led to a tumble.
(Photos © Michael Robertson/Velodramatic)
The Reve Tour is getting real. The six amateur women riders tackling the entire, 21 stage Tour de France route have completed seven days of riding. That's about 905 miles and over 40,000 feet of climbing. And they're only one-third of the way to Paris.
The team's correspondent, freelance journalist Heidi Swift, has been sending dispatches each day via Twitter and Peloton Magazine. Here's what she wrote after Stage 4:
"At night when we finish I want to cry. In the morning I want to jump out the window. By 6am I am ready to fucking go for it again. It's a constant process of destruction and resurrection. A daily face-kick to non-believers, including the one that lives inside of me."
A post this morning after Stage 7 was more optimistic: "Hip hip hooray!" she wrote on Twitter, "The #revetour ladies and I celebrated our one week anniversary by crushing stage 7. Including the death climb at the end."
Just how brutal was that "death climb"? How about averaging a 10% grade for four miles, with several sections at 15% and topping out at 20%. "You got to recover at 9%," Swift wrote.
Swift is one two women on the team that hails from Portland (initially there were three Portlanders on the team, but Susan Peithman did not end up making the trip to France). Jennifer Cree is the other.
I emailed with Jennifer's husband Russell Cree this morning. He said the team is "doing great" and that they're eagerly looking forward to the first rest day on Monday. "They are very tired but things are going smoothly and so far everyone is doing very well," he said, "Each week brings a new challenge."
The first big challenge was a very windy stage two, which caused the group's only crash thus far (it caused only minor road rash). What awaits the women after Monday's rest day are the Tour's legendary and massive climbs; and the long and fast descents on the other side of them. Russell says the team has packed lights and they, "Expect some very long days on the bike." So far, they've put in about 7-9 hours in the saddle each day.
Beyond the obvious physical challenges of the route and the glory that the women enjoy back home as they attempt this feat, there are other dynamics at play. Not one to gloss over reality, Swift shares some of the tribulations in her most recent dispatch:
"The thing about this is that it is so incredibly physically challenging that every bit of effort saved or expended is critical. Over 21 stages the sum total of those things will affect whether or not we can finish. We have to learn to make the choices that are best for the team as a whole. What is the best way to get to Paris?

We came here together, six near-strangers and started the most stressful and taxing endeavor that any of us has ever undertaken. We're tired, we're rushed, we're eating unfamiliar foods and we're riding until we can't see straight. Yeah, there's gonna be some shit.

But you know what?

In the meantime, we're crushing it."
Getting to Paris, together, as a team (which is how I think each of them measures success), is far from assured. "But they've shown they are strong and they are in this to finish it," says Russell, and "They are going for it."
— Follow the Reve Team's daily rides via Strava and Peloton Magazine.
Jonathan Maus is BikePortland's editor, publisher and founder. Contact him at @jonathan_maus on Twitter or via email at maus.jonathan@gmail.com or phone at 503-706-8804 (texts ok).