Posted by Jonathan Maus (Publisher/Editor) on June 22nd, 2012 at 10:05 am
*Scroll to end of story for major update*
Last night at just after 1:30 am I got a phone call about a "weird occurrence" on the on I-205 multi-use path just north of NE Glisan St on-ramp (map).
It turns out that someone on a motorcycle heading northbound somehow managed to end up on the adjacent path and struck a man who was riding his bike. Both people went to the hospital with what are being reported as non-serious injuries.
In that location, the I-205 path is only separated from the on-ramp by a concrete barrier wall (see aerial photo below). While bicycling through this intersection, I've often lamented at how awkward and unpleasant it is. It's not clear how this actually happened. The police have yet to release a statement about it.
Several local news stations responded; but so far they are only reported vague details. KGW says that, "The motorcycle and its driver flipped over the barrier, and the motorcycle knocked the cyclist off his bike." Here's a video of their report…
And here's a map of where it happened: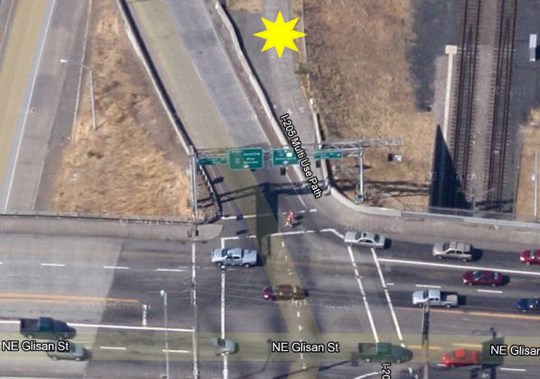 I will update this post when I hear back from the police. I can speculate a few scenarios that might have happened. The motorcycle operator might have been headed westbound on NE Glisan and, due to poor visibility or some other reason, mistook the I-205 path for the on-ramp. Or, perhaps the more likely scenario is that the motorcycle operator was headed eastbound on NE Glisan and then turned left onto the on-ramp, overshot the turn, and hit the barrier.
Anyone have more information?
UPDATE: The PPB has charged the motorcycle operator with DUII, Reckless Driving, Violation of Maximum Speed, and Failure to Obey a Traffic Control Device. Here's their statement:
This morning, Friday June 22, 2012, at 1:29 a.m., Portland Police officers assigned to East Precinct responded to the report of a crash on the bike path at Northeast Glisan Street over I-205. The caller reported that a person riding a motorcycle crashed into a bicyclist on the bike path.

Officers and medical personnel arrived and located both parties injured on the bike path, just North of Glisan. Both the motorcycle and the bicycle were heavily damaged. Both people were transported to an area hospital for treatment to non-life-threatening injuries.

Officers learned that the motorcycle rider, 28-year-old Ashley Cameron Benbrook, was riding his 2002 Harley Davidson Sportster X88 northbound on I-205 and took the Glisan Street off-ramp at an estimated speed of 60-70 mile per hour. As he reached the intersection of Glisan and the on-ramp/off-ramp to the freeway, Benbrook lost control of his motorcycle and crashed into the barrier between the on-ramp and the bike path, which is on the eastside of the freeway.

Benbrook and the motorcycle crashed over the barrier and hit 34-year-old Jeffrey Omar Glass, who was riding his bicycle southbound on the bike path.

At the hospital, it was determined that Benbrook had a blood alcohol content (BAC) of .094. Because he was in the hospital, Benbrook was given citations for DUII, Reckless Driving, Violation of Maximum Speed, and Failure to Obey a Traffic Control Device.
Jonathan Maus is BikePortland's editor, publisher and founder. Contact him at @jonathan_maus on Twitter, via email at maus.jonathan@gmail.com, or phone/text at 503-706-8804. Also, if you read and appreciate this site, please become a supporter.