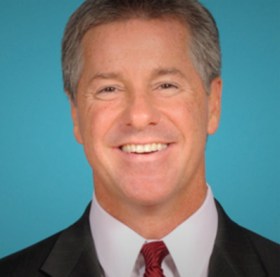 Our bike lanes welcome you Mr. Olshey.
[Publisher's Note: Turns out that this "bike lanes" thing, as reported by ESPN's John Hollinger, is part of an ongoing joke he plays with his readers about Portland. See end of post for full update/explanation. — Jonathan]
The Portland Trail Blazers announced today that, after nearly one year without one, they've named Neil Olshey as their General Manager. The move seems to be something of a coup for the Blazers, as he comes to Portland from the Los Angeles Clippers, a team that has made a dramatic turnaround from laughingstock of the NBA to legit playoff contender.
At this point, you're probably wondering why I'm sharing this news on BikePortland. Well, as many of you know from our Bike to Blazers events (which come to think of it, we should fire back up this coming season), I love basketball. Even if you don't care about the Blazers, as an urban transportation activist and citizen of Portland, you should appreciate that the team has a significant impact on our city in many ways.
But even just naming a new GM obviously isn't Front Page worthy on this blog… So, the reason I'm sharing it is because it seems Mr. Olshey is something of a bike fan.
In perusing coverage of the big announcement, I noticed that ESPN sportswriter John Hollinger reported that Olshey told him one of the main reasons Olshey picked Portland over L.A., despite being in active negotiations to stay there, was because we are a bike-friendly city. Check out the Tweet by Hollinger last night:
And Hollinger's mention of the bike lanes also appears in the full ESPN article he just posted. Was Hollinger just being snarky and facetious? Perhaps making a joke about Portland much-ballyhooed bikeways? Possibly, but from the article and the Tweet, it doesn't seem that way. (Mr. Olshey, if you're out there, feel free to contact us to elaborate.)
This all bodes very well for the Blazers and for biking. And I am happy. On behalf of all your fellow bike-loving Blazer fans, Welcome to Portland Neil!
UPDATE, 4:45 pm: After hearing many folks via Twitter chime in to say that Hollinger was likely just joking with this "bike lanes" comment, I finally heard from the sportswriter himself. It was indeed a joke. See the two Tweets below (first is Hollinger telling me it's a joke and second one is where he makes a comment about me (and Portland) in general:
It's worth noting that my story was not based on Hollinger's Tweet alone. He also mentioned "bike lanes" in his ESPN article without (at least to me) any hint of joking or irony. While this turned out to be a joke, my enthusiasm for Olshey and bike lanes remains. Sorry if this story led to any confusion.