The BTA wants to make guards like these (installed on
Water Bureau trucks in 2008 in response to
a fatal collision) mandatory.
(Photo © J. Maus/BikePortland
With the death of Kathryn Rickson still fresh on the minds of many (the community will gather at the intersection tonight at 5:30 pm), there is already a strong chorus calling for safety measures to make it less likely this will ever happen again. Citizen activists and the Bicycle Transportation Alliance are calling on the City of Portland to take action.
It's important to remember that these reactions are coming swiftly, not just because of what happened to Kathryn Rickson. Right-hook collisions are in the headlines here on BikePortland far too often it seems. And while most of the ones we report on do not result in fatalities, many of us remember ones that did. Tracey Sparling died from a right turning large truck. So did Brett Jarolimek. Those two fatal collisions happened less than two weeks apart back in October 2007 and their impact is still felt today.
One of Brett's friends co-workers, Kris Schamp, wrote about that in an email to me today. Schamp shared his feelings and his concerns about the road design at SW 3rd and Madison:
"This tragedy brings back a lot of sad memories of Brett Jarolimek, as the situation was very similar, i.e. a downhill bike lane, where cyclists tend to ride at the same speed (or faster) than cars/trucks and where (even experienced) cyclist don't get a fair chance to make an emergency stop if a vehicle ahead or next of them unexpectedly makes a right turn. I remember that shortly after Brett's death, there was another serious injury right-turn crash at the exact same location and how this prompted PBOT the swift and right call to close that right turn on Greeley indefinitely.

It seems that both SW Madison and SW Stark – as major eastbound bike commute corridors – would tremendously benefit from the same treatment that the city has been willing to apply to the Transit Mall. If we are able to set new rules to prevent cars from crossing dedicated bus/train transit lanes in our downtown area, it shouldn't be that hard to grant the same protection to cyclists on one or two downhill routes in the downtown area."
Northeast Portland resident and longtime local activist Ethan Jewett, is one of many people who are thinking about trucks and freight policies in light of this (and other) right-hook collisions. Jewett feels that perhaps it's time for the City of Portland to consider limiting access for large trucks downtown. The truck that collided with Kathryn Rickson had a large cab that was towing a 43-foot trailer. He put together this graphic which he plans to bring on a poster to tonight's gathering (which, by the way, I hear there will be freight advocates and stakeholders in attendance):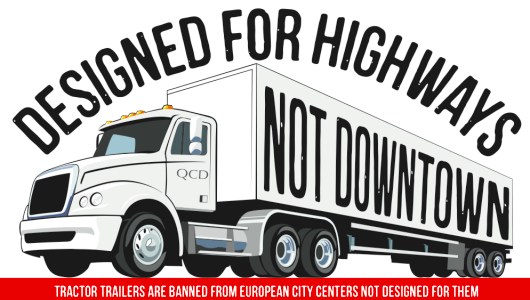 (@ Ethan Jewett)
The BTA is also calling for changes. They posted a list of immediate and long-term improvements and policy changes including:
an illuminated yield sign like the one PBOT installed to prevent right-hooks on NE Couch and Grand;
a "safety warning" in the bike lane;
better lighting at the intersection;
a bike-only signal similar to the one at NE Broadway and Williams;
the creation of a working group to "analyze citywide safety concerns at similar intersections and propose proactive solutions";
a repeal of Oregon's mandatory sidepath law (which states if a bike lane is present, it must be used (with exceptions));
making side under-run guards mandatory on all commercial trucks operating in Oregon;
and more robust education and training about vulnerable road users for commercial license holders.
There have been many calls for repealing the mandatory sidepath law (ORS 814.420) even before Rickson's death. Now I'd be surprised if it wasn't the BTA's top priority in the 2013 legislative session.
Stay tuned for more developments.