Posted by Jonathan Maus (Publisher/Editor) on May 11th, 2012 at 10:33 am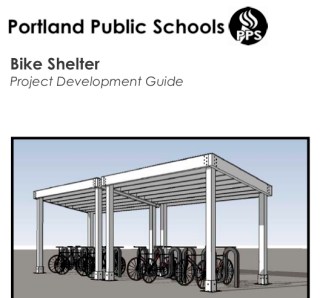 Cover of Portland Public School's
Bike Shelter Project Development Guide.
In an effort to make bicycling even more appealing to students, staff, and parents, Portland Public Schools (PPS) now offers a Bike Shelter Project Development Guide (PDF).
The new guide was developed in conjuction with the City of Portland's Safe Routes to School program. PBOT's Safe Routes team has been building momentum for more bike shelters since (at least) March 2010, when they installed shelters at four local schools. According to Safe Routes staffer Clay Veka, the PPS guide emerged from talks between local school leaders and PBOT back in February.
PPS says the guide is part of their commitment to, "providing school environments that use a holistic approach in promoting and protecting children's health, wellness and ability to learn." PPS funded the development of the guide, and will pay for the custom steel bases used for the shelter's posts, through a federal healthy living grant.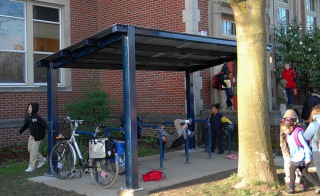 An existing shelter at Boise-Eliot Elementary School.
The guide lays out all the steps needed to streamline the bike shelter installation process. It provides school leaders with pre-engineered drawings, an itemized list of the materials and parts needed, and resource information for how to source them locally. The coolest part is that the shelters can be built with simple tools by volunteers or school maintenance staff. Each shelter will cost schools about $1,000 (extra if they need to pour a concrete pad), and they were purposely designed to not require a land-use or permit application.
Learn more about PBOT's Safe Routes to School program on their website.
Jonathan Maus is BikePortland's editor, publisher and founder. Contact him at @jonathan_maus on Twitter, via email at maus.jonathan@gmail.com, or phone/text at 503-706-8804. Also, if you read and appreciate this site, please become a supporter.