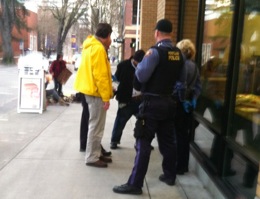 PPB making the arrest this morning.
(Photo: Michael Kloeppel)
Earlier this month we brought you news of a bike theft from Seven Corners Cycles in southeast Portland. A thief had made off with a Surly Long Haul trucker by removing the window pane near the front door, lifting the window out, and then riding away on the bike. Now we're happy to report that the bike has been recovered and the thief has been arrested.

The recovery came thanks to Michael Kloeppel, a close friend of Seven Corners' owner Corey Cartwright. Kloeppel spotted a bike on Craigslist on Tuesday that matched the description. After a few emails with the seller, "there were all these funny things that stood out," said Cartwright.
Kyle Elliot Holcomb
The thief, whose email address included the name "bobbysimpson," signed his emails with a different name, Kyle Holcomb. With suspicions that the bike was stolen from Seven Corners, Kloeppel and Cartwright looked up Holcomb's name on PDXMugshots.com and sure enough, they found a match.
With this information, Cartwright contacted the Portland Police Bureau (he said he called the non-emergency number and twenty minutes later a detective arrived at his shop!).
With the cops looped in and standing by, Kloeppel arranged a meeting with the seller to take a closer look at the bike. During his test ride, he verified a match on the serial number, and by the time he looped back, the cops were already arresting Holcomb. Turns out he had outstanding warrants and the PPB would have nabbed him regardless of the bike theft.
While bike thieves keep the PPB busy, it's not new ground for Kloeppel either. Back in July 2007 we shared his tale of how an eBay listing of some bike parts he'd gotten stolen led him to a similar rendezvous with a thief and police detectives.
Back to what happened this morning… According to Cartwright and Kloeppel, questioning of Holcomb by PPB detectives has revealed information that could lead them to another thief, the "window pane bandit," who is allegedly responsible for a string of thefts back in November.
For now, Cartwright is just happy to have his bike back. "It's a little worse for wear, a bit beat up, and it smells like cigarettes," he said on the phone today, "But other than that, it's a great day here at the shop!"
Contact Jonathan at @jonathan_maus on Twitter, via email at maus.jonathan@gmail.com, or phone/text at 503-706-8804. Also, if you read and appreciate this site, please become a supporter.