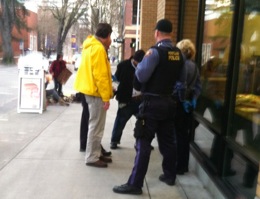 PPB making the arrest this morning.
(Photo: Michael Kloeppel)
Earlier this month we brought you news of a bike theft from Seven Corners Cycles in southeast Portland. A thief had made off with a Surly Long Haul trucker by removing the window pane near the front door, lifting the window out, and then riding away on the bike. Now we're happy to report that the bike has been recovered and the thief has been arrested.