This drawing shows how the left-side cycle track idea would look just north of Broadway. (Note the left-side cycle track with a bike passing lane in the upper left.)
(Image: PBOT/Alta Planning)

At a stakeholder advisory committee meeting of the North Williams Traffic Operations Safety Project today, the Portland Bureau of Transportation (PBOT) unveiled four new options to address traffic safety on the street.
The top-ranking option — the one that project manager Ellen Vanderslice said does the most to address the top outcomes adopted by the SAC at their meeting last week — is a left-side cycle track and one motor vehicle lane on Williams between Broadway and Killingsworth.
Today is the first time this 26-member advisory committee has even considered design options for the street since the entire process was put on pause and re-organized back in June of last year.
PBOT's "Option 1" (see cross-section drawing below) would separate bike traffic on Williams from auto traffic by using an auto parking lane as a buffer. The cross-section being proposed would include one, 14-foot standard vehicle lane, two 8-feet auto parking lanes, and 10 feet for bicycles. Some of the drawings unveiled today show two separate lanes for bikes in order to allow bicycle riders to pass each other.
Here's a cross-section of Option 1 when a parking lane is present:
And when no parking lane is present:
Option 1 would do away with one of the major problems on Williams — the bus-bike conflict that occurs when buses service stops in the bike lane. Below is how PBOT and project consultants from Alta Planning have determined that it stacks up against the SAC's adopted outcomes:
If you're concerned about how you would turn right while bicycling on the left side of the street, see the drawing below for how PBOT would treat intersections…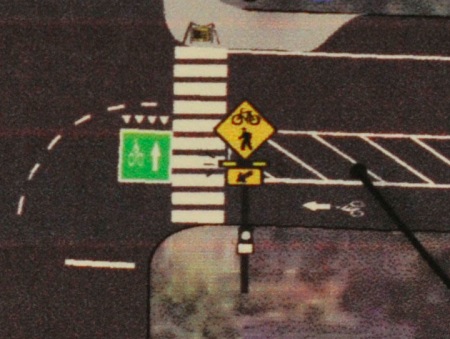 Also under Option 1, PBOT would remove the notorious (and annoying) median at N. Graham that pinches traffic…
(For further reading about the left-side option, see our post about it from April 2011.)
The left-side cycle track option (note: PBOT says they have a "very general" definition of cycle track and that it means basically any type of facility that affords bike traffic significant separation from auto traffic) was just one of four options unveiled today.
Option 2A would be a right-side buffered bike lane with one standard travel lane between Broadway and Killingsworth. Option 2B is very similar to 2A but it would return to two standard lanes and a standard width bike lane between Graham and Skidmore (the most highly developed/highest traffic segments of the street).
Here's the cross-section of the right-side buffered bike lane with one standard lane…
Option 3 would leave the street with the same configuration it has today.
All four options also include "spot improvements" like curb extensions (to improve visibility for people trying to cross), rapid flash beacons (crosswalk lights that flash when someone is present), new curb ramps, and so on. Vanderslice also shared today that PBOT is already working with developers to find funding for a new traffic signal at Williams and Cook. That signal is seen as crucial in achieving the desired safety outcomes in this project, but at $250,000 or more it is too expensive to pay for through this specific project (which has only about $370,000 total).
It's also important to note that, according to Vanderslice, none of the new options would require significant reductions in parking capacity.
Today was just an unveiling of the options and a starting point for the committee to discuss concerns and next steps. Another meeting is set for March 6th.
There is certain to be a vigorous discussion of the options before the SAC makes its final recommendation to PBOT. Already at today's meeting, you could sense the anxiety among the various stakeholders.
Even before the options were unveiled, Susan Peithman with the Bicycle Transportation Alliance (BTA) shared a recent personal experience. For the first time ever, she shared, she saw a young woman on a bicycle get hit by someone driving a car. It happened right in front of her eyes and Peithman was the first person on the scene. She wanted her fellow SAC members to keep that incident in mind.
Immediately after Peithman spoke, the assistant pastor at Life Change Christian Center (located on Williams), Jarrell Waddell, shared his concerns. Waddell said the spate of new development on Williams only exacerbates his concerns about auto parking capacity.
Toward the end of the discussion, Matt Hennessee, the senior pastor at Vancouver Ave. 1st Baptist Church said, "I'm glad we're not making a decision today. We need time to reflect on everything."
PDF downloads
— The four of the options unveiled today
— Overview of how each option would look on the various segments of Williams.