No more left turns from SW Condor onto Terwilliger and no more left turns off of Terwilliger onto Condor.
(Photos: Armando Luna)

Remember Kathleen Dailey? She's the Multnomah County Judge who was seriously injured after someone operating a car didn't see her and turned into her path as she pedaled into work on SW Terwilliger Blvd back in August. The collision left Dailey with serious injuries and it left PBOT with a lot to think about.
The person in the car was attempting to turn left (south) onto Terwilliger from SW Condor, a small sidestreet. The poor visibility, the curves of Terwilliger, and the speed of traffic (both bike and car) at the intersection created dangerous conditions. One month later, PBOT took action and added new striping and signage to warn people of the presence of bicycles.
Apparently PBOT felt paint and signs weren't enough. They have now installed plastic bollards in the middle of the intersection to prohibit left turns. Bureau spokesman Dan Anderson says the intersection has "a history of bike crashes" and that this is just a temporary median.
The median will be installed for a month and monitored. PBOT wants to make sure the local Homestead Neighborhood Association is O.K. with how the changes impact neighborhood cut-through traffic. Anderson says the City will make a final decision about whether or not to keep the median after the neighborhood's April meeting.
Below are a few more photos sent in by reader Armando Luna…
Looking north on Terwilliger (Condor comes up on the right)…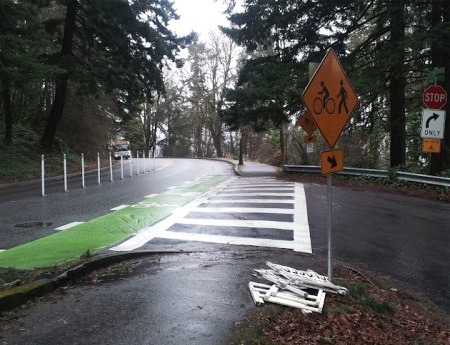 Looking south on the east side of Terwilliger…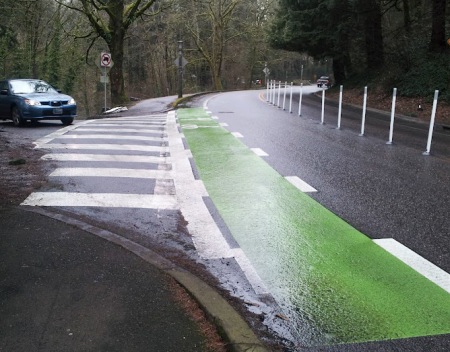 On the west side of Terwilliger, looking south…
And a set-back view from up the hill looking east at the intersection…
It seems like PBOT is using these plastic, "candlestick" bollards more frequently these days. I think that's great, since they are much cheaper and more feasible to install than hard concrete/curbs. But, like we've seen NW Lovejoy and in other locations, these bollards are only as effective as the glue that holds them to the ground. Hopefully these new ones on Terwilliger hold up to the abuse.