Posted by Jonathan Maus (Publisher/Editor) on January 3rd, 2012 at 4:03 pm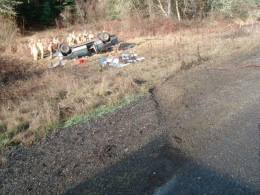 Aftermath of a fatal crash on December 31st.
(Photo: Oregon State Police)
319 people died while traveling on Oregon roads in 2011; that's two more than 2010 and the first increase since 2005. Another bit of preliminary data shows that 15 people on bicycles were killed last year — that's a 114% increase from the seven lives lost in 2010 and it ties the highest bike fatality total since at least 2003.
The Oregon Department of Transportation (ODOT) updated their crash statistics after five people were killed over the New Year's holiday. The 319th fatality happened on the morning of December 31st, when a 38-year old Vancouver, Washington mad died after losing control of his pickup while driving on icy roads Highway 20 near Philomath.
ODOT expects to have final 2011 numbers out in about a month; but preliminary data supplied to BikePortland today shows that of the 319 fatalities, 15 of them were people on bicycles, or "pedalcyclists" to use ODOT's terminology. That number is the highest it's been since at least 2003 (that's as far back as I have seen ODOT bike-specific fatality statistics). 15 people on bikes also died in 2007, but there were 455 total fatalities that year (compared to 319 in 2011).
While the number of "pedalcyclists" more than doubled, the number of pedestrians killed fell to 45 from a high of 61 last year (read more about that 2010 uptick in a Q & A we shared with ODOT's Traffic Safety Division manager last year).
In the past decade, 4,740 people have died while traveling on Oregon roads. Below is a year-by-year breakdown (bicycling fatalities are in parentheses):
2011 – 319 (15)
2010 – 317 (7)
2009 – 377 (8)
2008 – 416 (10)
2007 – 455 (15)
2006 – 478 (14)
2005 – 487 (11)
2004 – 456 (9)
2003 – 512 (8)
2002 – 436
2001 – 487
And here's a chart with more yearly data taken from ODOT's recently adopted Traffic Safety Action Plan (TSAP).
ODOT has made significant progress in traffic safety as fatality and injury rates have plummeted in past decades; but as we shared back in August, traffic crashes are still the leading cause of death in Oregon for people under 35 years of age and they cost our state an estimated $2.58 billion in total economic loss — or about $657 dollars per Oregon resident (according to the National Safety Council).
In October 2011, the State of Oregon officially adopted an update to their Traffic Safety Action Plan. That 94 page plan outlines a number of "Actions" and "Emphasis areas" such as toughening drunk driving laws, improving driver education programs and considering new legislation, "requiring the inclusion of helmets, reflective gear and lighting with new bicycles."
In the plan's Executive Summary, ODOT acknowledges that business as usual won't result in a major reduction in fatalities:
"Moderate reductions in Oregon's highway death toll can be continued through current programs, but a sustained, concentrated effort will prevent many crashes and save a significant number of lives and dollars."
And of course there's a lot of work to do if Oregon is to reach the vision of the future laid out in the plan:
"The Oregon Transportation Safety Action Plan envisions a future where Oregon's transportation-related death and injury rate continues to decline. We envision a day when days, then weeks and months pass with not a single fatal or debilitating injury occurs. someday, we see a level of zero annual fatalities and few injuries as the norm."
To learn more about what these numbers mean, stay tuned for more coverage and delve into them yourself via ODOT's Crash Analysis & Reporting web page.
Jonathan Maus is BikePortland's editor, publisher and founder. Contact him at @jonathan_maus on Twitter, via email at maus.jonathan@gmail.com, or phone/text at 503-706-8804. Also, if you read and appreciate this site, please become a supporter.