(Photo: Velo Cult)
Bicycle Retailer & Industry News is reporting that Velo Cult, a well-known bike shop based in San Diego, California, plans to relocate to Portland by mid-January:
"Boyer has narrowed his location search to two spaces in Portland that are four to five times the 1,200 square feet he has been operating out of in Southern California. The extra room will allow for a broader product line, adding more cyclocross, 29er and steel road bikes to Velo Cult's touring, commuter and randonneuring offerings.

The shop, which opened as Velo Culture in 2006, will also increase its already heavy emphasis on cycling culture, such as art and events, noted Boyer. "We're pretty much a Portland store in the wrong city. We're very commuter-oriented, very city-oriented," he said."
According to BR&IN, Velo Cult will bring their four employees to town as well.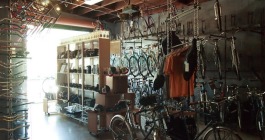 On SDBikeCommuter.com — a forum site started by Velo Cult owner Sky Boyer — a Velo Cult employee wrote, "We are leaving with heavy hearts."
As for the equally sad loyal customers the shop will leave behind, Boyer told BR&IN, "I wish I could take them with me. But some are talking about moving to Portland, so maybe I'll see them again."
From what I know about Velo Cult, the shop will fit right in here in Portland. Sheepless Magazine covered the shop last year and wrote that,
"This is not a place where greasy, scabby-kneed road warriors intimidate you with their superior knowledge of how your bike works. In fact, Velo Cult exists in direct opposition to that style of bike shop…

Today, Velo Cult is recognized world-wide as a an authority on all steel bikes, custom builds, and vintage recreations, and will soon unveil their own first original models. Locally, however, Velo Cult is also known for proactively promoting bike culture and community…

…Sky has never taken out a business loan or used credit for his business—so even if things go bad, he's never going to be in debt. Additionally, they can't—or don't—measure profitability in a traditional sense, as the store hasn't "made" a dollar, he says, but they do grow month by month even in this down-turned economy, offering new merchandise, expanding the store, opening a second warehouse a few miles down the road, and continuing to offer free community events. He sells what he likes—all steel bikes and top quality accessories—and nothing more, keeping inventory simple."
This is just the latest sign that Portland's bike economy is thriving and that people continue to move their lives and businesses here based solely on our respect and culture of bicycling.
We'll bring you more about this story soon. For now… How about a nice big Portland bike lover welcome for Velo Cult!