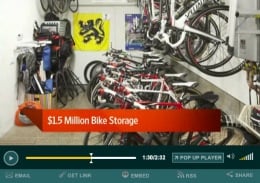 Today's print edition of the venerable Wall Street Journal features a story on Tim and Sue Butler's Southeast Portland condo. The Butler's are both serious cyclists, with Sue's name gracing these pages on several past occasions for her pro cyclocross exploits.
So, why is the WSJ profiling their condo? The house itself is gorgeous (nice enough to get a feature in Portland Monthly Mag last year), but it's the $1.5 million* amazing bike garage that caught their eye.

According to a video with WSJ reporter Nancy Keates that appeared yesterday on Marketwatch.com, the Butlers' bike garage is filled with their 22 bikes, has a separate workshop room, a sauna, and its own bathroom and shower to clean up after those long rides.
Check out the video below for a peek inside…
Very nice. I just hope they've got a good security system.
—
NOTE: This story and headline initially referenced a "$1.5 million" bike garage. That tidbit was taken from the Wall Street Journal video that appeared yesterday, before the print article. In the article, it was made clear that $1.5 million is the cost of the entire house, not just the bike garage. We regret the error. — JM