Posted by Jonathan Maus (Publisher/Editor) on October 10th, 2011 at 2:05 pm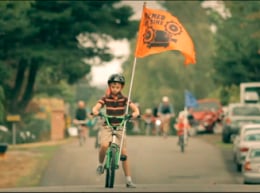 Still from Filmed by Bike
10th anniversary trailer.
(Film by Burk Webb)
Our much beloved local film fest, Filmed by Bike, turns 10 this year. To celebrate, fest founder Ayleen Crotty is looking to make it the biggest and best one ever.
Last week she released a special, 10th anniversary trailer. Check it out…

10th Anniversary Filmed by Bike Trailer from Filmed by Bike on Vimeo.
The trailer was produced by Burk Webb of Derailleur Films. Burk is well-known in local bike circles for his cyclocross videos and previous Filmed by Bike entries (unicycling zombies anyone?). He'll debut a Director's Cut of the trailer at the big festival in April.
If you want to make a movie and have it be in the running for Filmed by Bike 2012, submit your entry by January 20th. More details at FilmedByBike.org.