(Photo: Wash. Co. Sheriff)
A crash between a someone operating a pick-up truck and three people riding bikes on a rural road in Washington County resulted in life-threatening injuries. The crash happened at about 9:00 pm on Wednesday night.
According to news reports, the collision took place on NW West Union Road about 1/2 mile east of the intersection with Jackson Quarry Road (map) just after 9:00 pm. A pick-up was heading westbound prior to the collision. Two of the people riding bikes, one man and one woman, are suffering life-threatening injuries.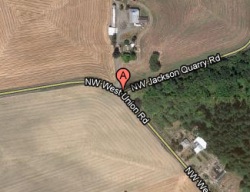 Approximate location
This section of NW West Union is a very popular road for bicycling. I rode on it for our recent family bike-camping trip and have ridden it twice in the past two weeks (I do a loop that goes out on NW West Union and then turns right (north) on Jackson Quarry). I've commented in the past about how dangerous these rural Washington County roads are.
Near the intersection where this collision occurred, West Union takes a sharp bend and Jackson Quarry spurs to the northeast.
I'm still waiting to find out more details on this crash and will update this post when I learn more. If anyone knows the victims or saw the crash, please get in touch with me via email or telephone (503-706-8804). In the meantime, stay tuned to local network TV news for the latest on the 11:00 pm newscasts.
UPDATES: According to KGW news coverage, the bikes where going westbound and were hit from behind by the pickup. The reporter also said the speed limit on this stretch of road is 55 mph and that the riders did not have lights. A police officer in the KGW report said that the people were riding "in the road" but it's important to remember that there's no shoulder to bike in on this road. One of the bikes, a mountain bike with front suspension, was embedded into the front grill of the truck.
– Also, a lot is already being said about the riders not having lights. This was a rear-end crash. Keep in mind that the law does not require people on bikes to have a rear light, only a rear reflector visible from 600 feet. More on bike lighting requirements here.
– According to KGW, one of the riders has died. The names have also been released: Courtney Acosta-Grates, 30; Diego Reyes, 23, of Vancouver, and Melanie Diaz, 30.