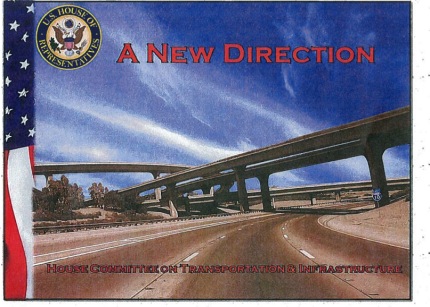 Cover of the proposal.
Stay tuned for lots of scrutiny and action alerts from transportation advocacy groups — the U.S. House of Representatives has just released their long awaited proposal for the reauthorization of our nation's transportation bill.
And, despite 12% of our nation's trips being made by bicycling or walking, the proposal cuts dedicated funding to programs like Safe Routes to School, Transportation Enhancements and others on the grounds that they are "do not serve a national interest."
The proposal (download it below) was developed in the House Transportation & Infrastructure Committee, which is controlled by Republicans and Chaired by Rep. John Mica (R-FL).
Mica's bill touts an "end to bureaucracy, red tape and wasteful programs." To stabilize the Highway Trust Fund the proposal would authorize $230 billion over the next six years — an amount that's 30% less over six years than the current transportation.
The proposal calls an increase in the gas tax "not fiscally responsible or realistic."
The chapter on "Program Reform & Reducing the Size of Government" says that 70 (out of 100) existing programs that "do not serve a national interest" would be eliminated. In addition to the programs mentioned above, the proposal would also eliminate the Nonmotorized Transportation Pilot Program. The NTPP was a cornerstone of the previous transportation bill and it provided $25 million to four communities to develop bicycling and walking facilities.
An image (and theme)
from the proposal.
The proposal also removes the requirement for states to spend highway funding on "non-highway activities" — which one can assume mean off-highway bicycling facilities. Instead, the bill gives states more flexibility to make spending choices themselves. This could turn out well for a pro-biking state like Oregon, but not so well in places where bicycling doesn't have a respected seat at the table.
States would get more than 90% of Federal Highway Program funding to spend at their own discretion; however, the proposal makes it clear that the flexibility comes with a new set of "performance measures and transparency requirements."
In summary, the proposal states that "nearly all" Federal Highway Program funding will go to states through programs designed to "preserve existing highways, build new highway capacity, and address congestion, freight mobility, and highway safety."
On rail transportation, the House proposal would cut 25% from Amtrak's federal operating subsidy and it eliminates a $100 million a year Intercity Passenger Rail grants program.
The proposal opens the chapter on transit programs with the ominous line, "The federal transit programs must do more with less." It would also remove existing barriers in order to allow more private corporations to offer public transit services.
There wasn't one mention of bicycling or non-motorized transportation (other than the part about eliminating that pilot project).
Not surprisingly, strong reactions to Mica's proposal are already coming in from national bike advocacy groups. The League of American Bicyclists has already issued an action alert to members, saying,
"Mica's 'New Direction' proposal in fact turns the clock back on decades of hard-fought progress towards a truly multi-modal transportation system that offers American's real choices. Even with a 'small' bill, returning to a 1950's highways-only mentality flies in the face of fiscal responsibility by guaranteeing more single occupant vehicle travel on ever more congested and dangerous highways that we can't even afford to maintain, let alone build….

"The League calls on Chairman Mica to reinstate dedicated funding for bicycling and walking in his bill. We also ask that the Senate resist the efforts of Senator Inhofe eliminate dedicated funding for bicycling and walking."
This is just the first step in what will surely be a long reauthorization process. Stay tuned for more coverage.
— Download the 22 page proposal here (PDF)