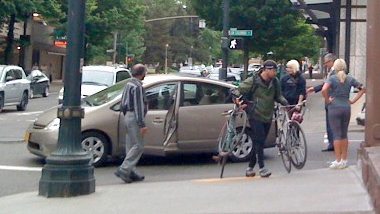 Mayor Adams' Prius at the scene of the collision.
Photo: Beth Slovic/The Oregonian

[*See statement about the collision from Mayor Adams' office below.]
The Oregonian reported this afternoon that Portland Mayor Sam Adams was involved in a traffic collision that involved a woman on a bicycle.
According to The Oregonian, Adams was driving his City-issued Prius when he stopped to avoid someone walking in the the intersection of SW 4th and Columbia just one block from City Hall:
The bicyclist, Tasia Bernie, says the mayor "came to a really quick stop" at the intersection of Southwest Fourth Avenue and Columbia Street. The mayor was making a left turn but stopped to avoid a pedestrian, Bernie says. She then crashed into the back of his Prius and fell to the pavement.
At just after 3:00 today, the Mayor's Communication Director Amy Ruiz sent out a statement about the collision, which I've posted in its entirety below:
Mayor Sam Adams' account of this afternoon's bicycle‐car collision at SW Columbia and SW 4th

This afternoon, shortly before 1 pm, Mayor Sam Adams was driving his city‐issued Prius to an event at Lincoln High School, accompanied by his Public Safety and Peacekeeping Director Antoinette Edwards, when his vehicle was rear‐ended by a woman riding a bicycle.

Mayor Adams was driving eastbound on SW Columbia, and intended to turn left onto SW 4th; He had a green light. He stopped for a female pedestrian who was jogging across 4th Avenue, westbound. While stopped and waiting for the pedestrian to finish crossing, the Mayor heard and felt something bump into the back right side of his vehicle. He turned on his hazard lights, and got out of his vehicle.

The Mayor found a female and her bicycle on the ground behind his vehicle; she had collided with the back of the Mayor's vehicle while also traveling eastbound on SW Columbia. He helped the woman to the sidewalk, while another man, also riding a bicycle, stopped and moved the woman's bicycle to the sidewalk. The Mayor asked the female cyclist if she was injured or needed medical attention. She declined medical attention. She and the Mayor exchanged contact information, and the mayor also handed out his card to the female pedestrian and the man on a bike, and asked them to contact our office with their contact information.

The Mayor has given his account, and the other parties' contact info, to the City Attorney, who has in turn provided it to the City's Risk Management department for follow up. The Risk Management department will contact all parties involved as part of a routine investigation of any collision involving a publicly‐owned vehicle.